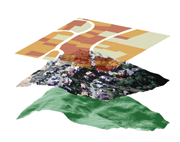 Maggi Kelly, director of CNR's Geospatial Imaging & Informatics Facility, associate cooperative extension specialist, and adjunct associate professor of Environmental Science, Policy, and Management, recently earned the "Excellence in Education" award from the California Geographic Information Association.

The award honors programs with an extraordinary approach, contribution, development or commitment to GIS education in California. Nominees are judged on the basis of the breadth of courses offered, accessibility of classes, population served, technical facilities, and post-graduation support.

Kelly's research and outreach program has several themes and is informed by the disciplines of GIS science, geography, and landscape ecology. She links ecological patterns with process in spatially heterogeneous and dynamic landscapes -- providing data and expertise needed to understand current and projected drivers of landscape change in California. Her approach also embraces the evaluation of new technologies and development of best practices for ecological monitoring and landscape quantification. She is particularly interested in integrating high spatial resolution remotely sensed imagery and output from new active sensors with innovative image processing and spatial modeling techniques.

Many of Kelly's workshops combine instructor led classes with Internet-based workbooks. Both introductory and advanced classes are available.

For more information about webGIS, visit the GIIF website.

Related: Location, Location, Location - WebGIS puts science on the map (Berkeley Science Review).