Dr. Robert O. Nesheim, a research and development executive in the food industry, past lecturer in the department of Nutritional Sciences and Toxicology at UC Berkeley, and a beloved member of the College of Natural Resources community, died Saturday, July 19 at his home in Monterey, Calif. He was 86.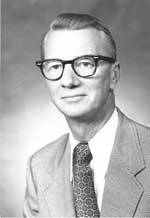 Dr. Robert O. Nesheim

Nesheim was married to professor emerita Doris Calloway, a pioneering nutritional scientist who spent 27 years at the College of Natural Resources. Together, Nesheim and Colloway were partners in the science and practice of nutrition and foods. Nesheim assisted Dr. Calloway in mentoring UC Berkeley graduate students and serving on national and international nutrition committees. Before Calloway's death, Nesheim made a major contribution to the College, establishing the Doris Calloway Faculty Chair in Human Nutrition in her honor.
---
Nesheim was known nationally for bringing rigorous scientific approaches to the field of nutrition to his many roles in industry, government, and academia. Dr. Kenneth Fisher, a senior scientific consultant at the National Institutes of Health said that Nesheim, his long-time colleague, "was one of the movers and shakers that brought nutrition science into the 20th and even the 21st century because of his influence on those around him."

In private industry, Nesheim worked at the Quaker Oats Company for 30 years, first as vice president of research and development and later as vice president for science and technology. He moved on to Avadyne, Inc., where he served as vice president of science and technology and as president of the company's advanced healthcare division, retiring in 1992.

Nesheim's academic appointments included professor and head of the Department of Animal Science at the University of Illinois, Urbana-Champaign; lecturer in the Department of Nutritional Sciences and Toxicology at UC Berkeley, and a visiting lecturer at the Department of Nutritional Sciences at UC Davis.

Nesheim served on committees or task forces for several federal agencies, including the US Department of Health, Education and Welfare, the US Department of Agriculture, and the US Agency for International Development.

During World War II, Nesheim served as a captain of Field Artillery in the U.S. Army. He served on various committees of the Food and Nutrition Board (FNB) of the National Academy of Sciences for over 35 years. Most notably, he chaired the Military Nutrition Committee for 16 years. Through his leadership the Committee set standards for water consumption by the soldiers and guidelines for evaluating body weight. He also was active as chairman of the board in the Biosciences Information Service, chairman of the Food Industry Liaison Advisory Panel of the American Medical Association, the American Institute of Nutrition, Institute of Food Technologists, on the editorial board of Food Reviews International, and he served as Treasurer of the Federation of the American Societies of Experimental Biology. He was a Fellow of the American Institute of Nutrition and American Association for the Advancement of Science and a member of numerous other professional organizations.

Dr. Nesheim also donated his time and expertise to many civic and nonprofit organizations including the YMCA, the Boy Scouts of America, the University of Illinois College of Agriculture and the College of Natural Resources at UC Berkeley.

Dr. Nesheim was born in Monroe Center, Illinois in 1921 and grew up on a farm. He received his education at the University of Illinois including a B.S. in agriculture in 1943, an M.S. in animal science in 1950, and a Ph.D. in nutrition and animal science in 1951. His first marriage, to Emogene P. Nesheim, ended in divorce after 32 years. He attended the Advanced Management Program at Harvard Business School in 1971.

In December 2007, Nesheim gave a large gift to create the "Dr. Robert O. Nesheim Fellowships in Nutrition Endowment Fund" at the University of Illinois College of Agriculture, Consumer and Environmental Sciences at Urbana-Champaign. Nesheim reflected that this endowment fund served as a way to recognize the role that the University of Illinois played in the many professional and personal opportunities afforded to him throughout his life.

Nesheim is survived by two daughters, Barbara Mowry of Littleton, CO; Sandra Rankin of Danbury, CT. A third daughter, Susan Yost , preceded him in death. He is also survived by one stepdaughter, Candace Calloway Whiting of Seattle, WA; one stepson, David Calloway of San Pedro, CA; two brothers; Professor Emeritus Malden Nesheim, Ithaca, NY; O. Norman Nesheim of Gainesville, FL; four sisters; Martha Priegnitz of Algonquin, IL; Esther Weinrich of Sycamore, IL; Ruth Wakeland of Vero Beach, FL; and Elaine Musselman of Rochelle, IL; nine grandchildren and one great grandchild. He also leaves behind many colleagues and friends with whom he worked during his career.


Memorial information
A memorial service will be held at the Park Lane, 200 Glenwood Circle, Monterey, CA 93940 on August 16th at 3 p.m.

The family requests that in lieu of flowers, donations be sent to Hospice of the Central Coast, in memory of Dr. Robert O. Nesheim, 2 Upper Ragsdale Drive, Suite D210, Monterey, CA 93940.