Several changes in CNR's senior leadership go into effect with the new semester.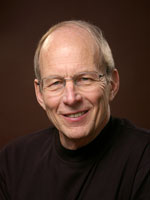 Bob Buchanan


Bob Buchanan, professor of plant biology and winner of CNR's 2007 Career Achievement Award, has been named Executive Associate Dean of the College. He will be responsible for general oversight of the College's space, research centers and facilities, and field properties. He will also work closely with department chairs on new faculty hiring issues and represent the College on the statewide Agriculture and Natural Resources Program Council.

Buchanan takes over the role as Professor Stephen Welter steps down to focus on his role as Associate Dean for Instruction and Student Affairs. For the last year, Welter has juggled the dual roles, and is looking forward to providing undivided attention to leading the College's instructional and outreach programs.
---
Professor Buchanan began his career at Berkeley in 1962 as a postdoctoral researcher and joined the faculty one year later. He has a distinguished teaching record and a long record of service to campus and to CNR, including serving on the UC Systemwide Committee on Academic Personnel.

In addition to his excellent record of service and teaching, Buchanan's research career has been groundbreaking. He has devoted his career to the study of the impact of redox changes in plants, removing allergens from existing foods, and boosting nutritional content of staple crops in the developing world.

Buchanan says he is looking forward to "opportunities to make meaningful contributions in a number of areas," both within the college administration and beyond. "With the growing realization that the world's food supply is finite, agriculture is assuming new prominence in America and worldwide," he says. "I have attempted to help this fundamental, often neglected, field throughout my career. Hopefully, the EAD position will provide a means to enable me to make a timely contribution."

In two additional senior leadership changes, Professor George Roderick recently stepped up as chair of ESPM's Division of Organisms and the Environment, and Professor Greg Biging has stepped down from the Associate Dean for Forestry position to take a well-earned sabbatical. For the time being, Dean J. Keith Gilless will take over Forestry leadership responsibilities including representing the College to the National Associate of University Forest Resources Programs (NAUFRP) and the California Alumni Foresters.