Virologist Britt Glaunsinger, an assistant professor in the Department of Plant and Microbial Biology, has won a W. M. Keck Foundation grant, an award given to innovative young scientists in the area of biomedical research.

The grant, which totals up to $1 million over five years, will go to UC Berkeley to support Glaunsinger's work using the herpesvirus as a tool to study the inner workings of human cells.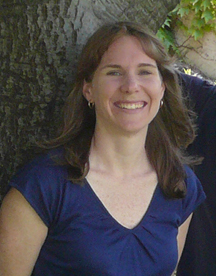 Glaunsinger said she is ecstatic to be a recipient. "The great thing about the award is that they are funding ideas that might be too risky for other grant agencies. It allows you to pursue unconventional avenues and get at questions we wouldn't normally be able to ask without this funding," she said. "This pretty much made my year."
---
The foundation granted five Distinguished Young Scholars in Medical Research awards this year. Officials at the W. M. Keck Foundation, which supports pioneering medical research, announced the winners on July 28.

"Over the past decade, Keck Young Scholars have consistently produced high-impact research and have advanced to become some of the most prominent scientists in their respective fields," said Robert A. Day, chairman and chief executive officer of the W. M. Keck Foundation, in a prepared statement. "We are proud to have helped jump-start the careers of some of our nation's research leaders and are very pleased to support a new group of young scholars who we believe have the same potential."

Glaunsinger will use the grant money for innovative experiments using the herpesvirus to probe how our cells regulate their RNA. The virus uses a mysterious trick to evade the immune response: It destroys all the RNA inside every cell it infects. Glaunsinger's research group has identified the key viral protein involved in the widespread destruction, but no one yet understands how it works.

Glaunsinger thinks the virus is co-opting some of the cell's normal machinery to regulate RNA stability. Some RNA molecules are long-lived, and some are turned over very quickly, depending on their function. The cell has finely-tuned mechanisms to maintain or destroy RNA molecules, Glaunsinger said, but these mechanisms are largely not understood. By learning which pieces of the machinery the virus adopts for its own uses, Glaunsinger hopes to uncover the workings of the cellular machinery itself.

Glaunsinger received her Ph.D. in molecular virology and microbiology from Baylor College of Medicine in 2001. She joined the UC Berkeley faculty in 2006. In 2007, she received the Burroughs Wellcome Investigators in Pathogenesis of Infectious Disease Award, another prestigious award for young scientists.

The four other recipients of the Keck award are Dr. Carl Novina, assistant professor in cancer immunology and AIDS in the Dana-Farber Cancer Institute in Boston, Mass.; Coleen Murphy, assistant professor of molecular biology at Princeton University; Joanna Wysocka, assistant professor of chemical and systems biology and developmental biology at Stanford University; and Peter Reddien, member of the Whitehead Institute in Cambridge, Mass.

The Keck Distinguished Young Scholars in Medical Research program was established in 1998. Since then, it has awarded 49 grants to research universities and institutions. UC Berkeley last received one of these grants in 2005, to support the work of Lu Chen, assistant professor of neurobiology. "Now in its tenth year, our Young Scholars program helps to promote the early career development of some of the country's most promising biomedical scientists," said Day.

The Los Angeles-based W. M. Keck Foundation was established in 1954 by the late William Myron Keck, founder of the Superior Oil Co. The foundation's grant-making is focused primarily on pioneering efforts in the areas of medical research, science and engineering. The foundation also maintains a Southern California grant program that provides support in the areas of civic and community services with a special emphasis on children and youth. -- Rachel Tompa