David Roland-Holst, professor of Agricultural and Resource Economics at UC Berkeley's College of Natural Resources, will speak on Climate Action, Adaptation, & Job Creation in America: Lessons from California at a special event for Washington, D.C.-area alumni and friends of the College of Natural Resources.



Sunday, March 1, 2009, 3 to 5 p.m.
University of California Washington Center | Washington, D.C.



As the U.S. economy sinks deeper into crisis and the outlook for a warming planet looks ever bleaker, many pundits and politicians have pinned their hopes on a new, "green" vision of economic recovery. Are these hopes realistic or just rhetoric?

California's experience suggests that there need not be a tradeoff between economic growth and environmental progress, and the state offers lessons for a new generation of national policy.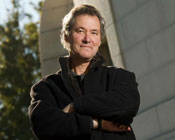 David Roland-Holst, a leading scholar of California policy, will present his analysis of links between energy efficiency and job creation, as well as a broad assessment of the climate risk and adaptive responses that offer employment‐intensive investment opportunities.

Roland-Holst is one of the world's leading authorities on economic, energy, and climate policy modeling. He has extensive research experience in economics related to environment, development, agriculture, and international trade, authoring three books and over 100 articles and chapters in professional journals and books. Professor Roland-Holst has served in several academic posts in the United States, Europe, and Asia and has conducted research in over 40 countries, working with many public institutions including a variety of federal and state agencies. Most recently, his research has been central to the passage, design and implementation of California's groundbreaking Global Warming Solutions Act.

RSVP by February 20, 2009 by calling (510) 643-1051 or emailing brittsan@nature.berkeley.edu


---
Directions:

The UC Washington Center is located at 1608 Rhode Island Ave NW, between 16th and 17th Streets. Street and garage parking are nearby.

Metro
The is three blocks north of the Farragut North Metro station on the Red line or Farragut West on the Orange/Blue lines. It is 3 blocks southeast of the Dupont Circle station on the Red line.


View Larger Map