CNR student David Dinh is helping rural Ugandans to have access to safe drinking water.

"In every home in Uganda, drinking water is traditionally stored in a clay pot and culturally, there is a tremendous preference for this method of water storage. Unfortunately, water stored through this method can become quickly contaminated from repeated hand contact," Dinh writes. Because of the need for safe water storage, Dinh has helped to create improved clay pots with plastic spigots. They are "an affordable, accessible, and culturally appropriate safe water storage approach for rural Ugandan communities, " says Dinh.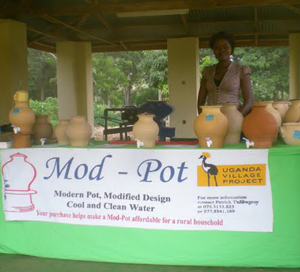 Working in conjunction with Uganda Village Project and with support from the Strauss Foundation, Dinh has established social enterprise in the Ugandan villages. The distribution of the modified pots is subsidized for disadvantaged families in rural Uganda through the profits generated from the sale of modified pots in major urban areas.

---
Dinh has also acquired some extra skills along the way, such as marketing, market analysis, and pricing in his collaboration with the Ugandan general manager. Dinh will return to UC Berkeley in January 2010, at which point he will turn the operations over to the general manager.

"Over the next two months, I am working with the general manager and a part-time sales team to establish urban supply chains and relationships with retailers, government, and consumers. By the end of October, we expect UVP will have a supply of rural clay pots entire villages interested in purchasing a modified clay pot at the subsidized price," says Dinh.