By Sarah Yang, Media Relations

When visiting Sherman Island in the Sacramento-San Joaquin River Delta, it is easy to forget the region's ever-present threat of catastrophic floods and instead revel in the West Coast's largest estuary, which supports farmers, anglers, and more than 700 native species of plants and animals, including some that are endangered.

"You drive out there and you see that cows are grazing, birds are chirping; but it's deceptive," said Robert Bea, professor of civil and environmental engineering at the University of California, Berkeley. "As you start to dig in, you find out how incredibly complex and vulnerable we've made this place."

At least 220 government agencies have jurisdiction in the Delta, which is home to half a million residents in 25 villages, towns and cities, including Sacramento, Stockton and Pittsburg. The region is under continual threat from floods, prevented only by a vast – and fragile – network of earthen levees.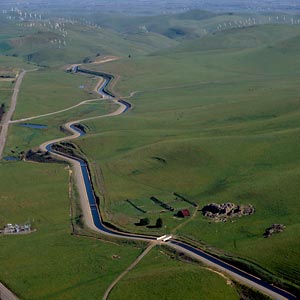 Sherman Island, said Bea, is an example of a critical chokepoint in the Delta for the tangled networks of highways, railroads, and electrical, gas and telecommunication lines that serve as lifelines for the San Francisco Bay Area and large swaths of the state. The Delta also serves as the hub for aqueducts that channel drinking water for two-thirds of the state's population – more than 23 million people – and irrigation water for 3 million acres of agriculture responsible for half the nation's fruits and vegetables and one-quarter of its dairy products.

Today there are more than 1,100 miles of levees – longer than California's coastline – surrounding 837,000 acres of land in the Delta and Suisun Marsh. Many of those levees are now a century old.

The peat proved to be fertile ground for farms, but its exposure to oxygen and compaction literally sank the land as microbes gained access to the organic debris through the drainage of water. The land continues to sink at a rate of 1-3 inches per year.

Like most of the islands in the Delta, the land on Sherman Island sits 15-20 feet below sea level, a result of decades of subsidence.

Few know this better than biometeorologist Dennis Baldocchi, a UC Berkeley professor in the Department of Environmental Science, Policy & Management. Baldocchi came from a family of Delta farmers, starting with his grandparents who settled in Antioch after emigrating from Italy. Baldocchi's father grew almonds and walnuts in the Delta towns of Antioch and Oakley, while several aunts, uncles and cousins farmed asparagus, sugar beets, grains and other crops on Liberty and Sherman islands over the decades.

One of Baldocchi's aunts had fortunately moved out of her home on Sherman Island right before it was destroyed in a 1969 flood that resulted from a levee break. The home was never rebuilt, but Baldocchi's connection to the region remains. As a researcher, he has been studying the release of greenhouse gases in the Delta as methane and carbon dioxide are released from the peat.

When Baldocchi returns to Sherman Island for his research, he sees a landscape changed from his childhood memories.

"What strikes me most is the visual impression I get standing on a road today and seeing how much lower the fields are – 3 to 4 feet in many cases – from where they were 30 years ago when I was tramping through the fields pheasant hunting with my dad," said Baldocchi. "I can even see the markings on telephone poles from where the soil used to be. Those footings on the utility poles were probably buried in the peat when they were originally installed 70 to 80 years ago."

Exacerbating the vulnerability of the region is the continued development and population growth of the Delta. A 2007 report initiated by UC Berkeley's Department of Landscape Architecture and Environmental Planning noted that high housing prices throughout Northern California contributed to growth pressure in Delta communities. The report's authors noted that since the 2000 census, the towns and cities within the Delta have grown by 18 percent, with some, including Brentwood, Tracy and West Sacramento, experiencing growth of 25 percent.