Congratulations to Emma Tome, a junior double majoring in Environmental Sciences and Geography, who was named as a recipient of the Udall Scholarship for 2010, and to Larry M. Cai, a junior majoring in Molecular Toxicology and minoring in Music, who was named as a recipient of the Barry M. Goldwater Scholarship for 2010. CNR is proud of these outstanding young scholars.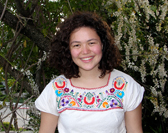 The Udall Scholarship awards $5,000 to sophomore- and junior-level college students committed to careers related to the environment, tribal public policy, or Native American health care. The Udall Foundation seeks future leaders across a wide spectrum of environmental fields, including policy, engineering, science, education, urban planning and renewal, business, health, justice, and economics. 80 scholarships are awarded nationwide.



The Barry M. Goldwater Scholarship provides $7,500 per year for educational expenses to sophomores and juniors majoring in math, science, and engineering. The purpose of the award is to encourage outstanding students to pursue careers and advanced degrees in these fields. The foundation awards up to 300 Goldwater Scholarships nationwide; UC Berkeley nominates four students for the award.