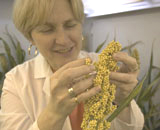 Dr. Peggy Lemaux, Cooperative Extension Specialist in the Department of Plant and Microbial Biology, was presented with The Society of In Vitro Biology Lifetime Achievement Award for 2010.
Dr. Lemaux is considered by many as being overall the most influential contributor to the field of monocot transformation. She is recognized internationally for her groundbreaking research in corn and barley transformation, and her work has also been critical in the development of transformation protocols for other species such as wheat, rice, oats, sorghum and turf/forage grasses.
---
Dr. Lemaux's current research focuses on making agronomic and nutritional improvements in wheat and improving the nutritional quality and bioenergy potential of sorghum. Past efforts have f
ocused on determining gene function and malting characteristics in barley and reducing  allergenicity and improving dough-making properties of wheat. Dr. Lemaux has authored over 90 research articles in the field of plant biology and biotechnology. The international barley and sorghum research communities have acknowledged that they are indebted to her research and assistance in furthering their research priorities. In recognition of her contributions to the field of plant biology, Dr. Lemaux has been recognized as a fellow of the AAAS, American Society of Plant Biologists and the Crop Science Society of America and also received the Dennis R. Hoagland Award from the American Society of Plant Biology for outstanding contributions to agriculture.

In addition to her tremendous contributions to the field of plant biotechnology, Dr. Lemaux is also highly lauded for her outreach activities aimed at increasing public understanding of plant biotechnology and providing valuable information for the development of governmental policy. She has targeted US and international audiences, and has actively communicated with all types of stakeholders using multiple communication media, as well as through innumerable workshops, seminars, and educational programs. She has also published articles extensively on issues associated with plant biotechnology.

The SIVB Lifetime Achievement Award was established in 1989 to recognize those who have achieved academic excellence in their field of study and to honor those who have made significant and contributions to the field of in vitro biology and/or in the development of novel technologies that have advanced in vitro biology.