By: Donna Tam Contra Costa Times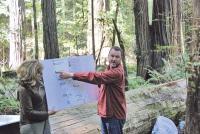 Humboldt State University professor Stephen Sillett marveled at the mystery locked inside the rings of a redwood tree. These trees store all this information in their wood. It's awesome," he said, standing on a trail in the middle of the Rockefeller Forest.
Sillett, the Kenneth L. Fisher Chair in Redwood Forest Ecology at HSU, and a team of scientists from HSU and the University of California, Berkeley, have just completed their first year of a three-year research project to unlock the secrets of the redwoods.
---
The research, sponsored by the Save the Redwoods League and philanthropist Kenneth L. Fisher, will be used to determine what conservation efforts should be made to ensure that the public can enjoy the beauty of the redwoods for generations to come, according to the league.

Fisher is matching up to $500,000 in donations for the research work.

 This is a really special place for our organization," Save the Redwoods League Executive Director Ruskin Hartley said about the Rockefeller forest, the largest oldgrowth redwood forest in the world.

Hartley said that in 1917, three scientists had come across this very pocket of redwood trees and witnessed the rapid logging that seemed to be closing in on the area from the south and the north. In an effort to preserve the forest, educate the public and affect policy debate, the scientists formed the Save the Redwoods League soon after.

The research project is called the Redwoods and Climate Change Initiative, but the information gathered will help scientists determine much more than how climate change will affect trees. The team said forests are also being affected by invasive species, urbanization and pollution.

The team is establishing a research and monitoring network through 16 plots in 13 sites throughout Northern California, including the Rockefeller Forest. Each 2.2-acre permanent plot will monitor Coast Redwoods or Sequoia Redwoods.

"This is an intense research effort to unlock the mystery of what these trees are about," said Todd Dawson, a professor and the director of the Center for Stable Isotope Biogeochemistry at the University of California, Berkeley.

The project will include field work measuring trees and their components, greenhouse testing on seedlings, isotope research and the cross-dating of tree rings.

"It's never been done," Dawson said. "It requires new technology, innovative technology and a new kind of scientist -- a group of scientists who are willing to get off the ground."

The scientists are gathering information using new technology developed by UC Berkeley called climate nodes. These contraptions -- designed with wireless technology and solar film -- are installed on the trees, and measure temperature, humidity and light.

Additionally, the team is cross-dating rings -- something that has never been done before, Sillett said. Cross-dating matches rings to a specific year, allowing the scientists to see how trees were affected by specific conditions. For example, a large ring indicates a lot of growth during that specific year. By cross-dating, scientists can see what conditions, like heavy rainfall or flooding, caused the growth.

Anthony Ambrose, a research scientist with the department of Integrative Biology and Center of Stable Isotope Biogeochemistry at UC Berkeley, said the combined efforts of research into the past of the trees can help understand how to conserve them.

"We can infer back in time how the tree responded and what condition it was responding to," he said. "It's a tremendous gold mine of information."

Click Here to Read this Story on the Contra Costa Times