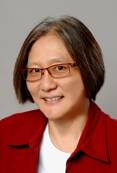 On September 17, 2010, President Barack Obama announced his intent to appoint several individuals as Members of the President's Committee on the National Medal of Science of which CNR Professor Inez Fung has a designated place.
President Obama said, "I am confident that these impressive men and women will make valued additions to this administration. I look forward to working with them in the months and years ahead."
Inez Fung, Appointee for Member, President's Committee on the National Medal of Science
Inez Fung is a Professor of Atmospheric Science at the University of California, Berkeley, where she serves as Director of the Berkeley Institute of the Environment. Her research focuses on the interactions between climate change and biogeochemical cycles.
Dr. Fung is a member of the National Academy of Sciences, a fellow of the American Geophysical Union and the American Meteorological Society, and a recipient of the Roger Revelle Medal of the American Geophysical Union. She was a contributor to the United Nations Environmental Programme's Intergovernmental Panel for Climate Change that was awarded the 2007 Nobel Peace Prize for its work.
In 2006 she received the World Technology Network Award for the Environment, and in 2005 she was named one of the "Scientific American 50". Dr. Fung received her S.B. in 1971 and Sc.D. in 1977 from the Massachusetts Institute of Technology.