By: Mireya Navarro, New York Times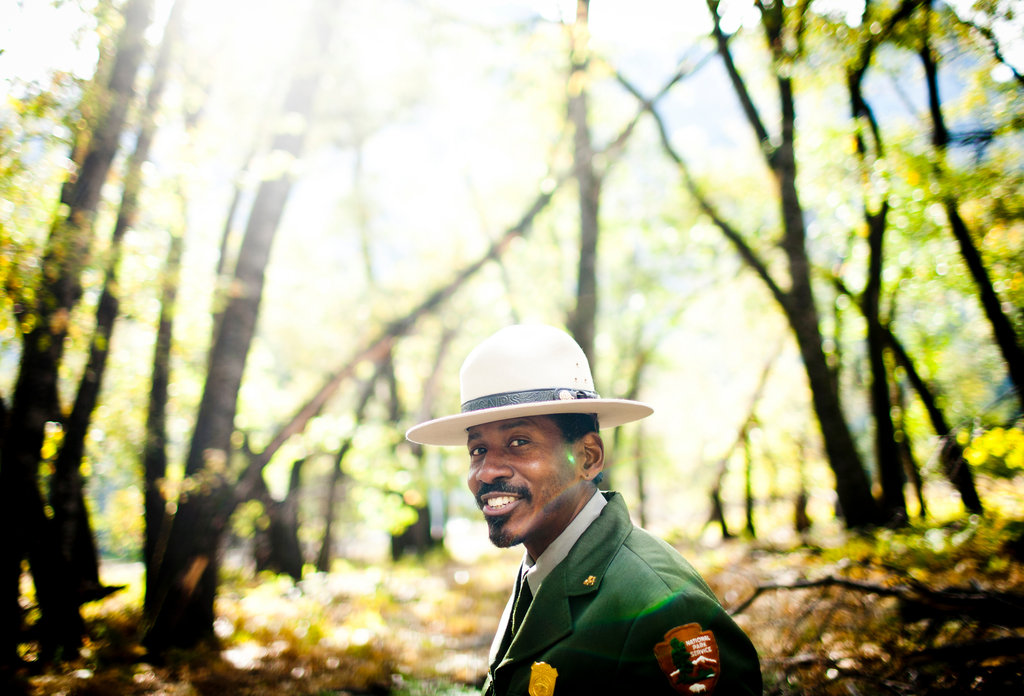 When Shelton Johnson was 5, his family took him to Berchtesgaden National Park in the Bavarian Alps. To this day, he remembers his sense of awe.
"The mountains, the sky being so close – it affected me profoundly," said Mr. Johnson, who now works as a ranger at Yosemite National Park in California.
In 23 years on the job, Mr. Johnson, 52, has been equally struck by how few of his fellow African-Americans visit the national parks, Yosemite included. A few years ago, he decided to do something about it.
In a plaintive letter to Oprah Winfrey, he wrote:
"Every year, America is becoming increasingly diverse, but that diversity is not reflected in the national parks, even though African-Americans and other groups played a vital role in the founding of national parks. If the national parks are America's playground, then why are we not playing in the most beautiful places in America?"
On Friday, "The Oprah Winfrey Show" devoted the full hour to a segment that was taped at Yosemite in response to Mr. Johnson's appeal. Part 2 of the episode is to be broadcast on Wednesday.
The visitors issue is a pressing one for the National Park Service, which is expanding its efforts to diversify both its guests and its work force as the agency prepares to celebrate its centennial in 2016.
Studies and surveys show that visitors to the nation's 393 national parks – there were 285.5 million of them in 2009 – are overwhelmingly non-Hispanic whites, with blacks the least likely group to visit. That reality has not changed since the 1960s, when it was first identified as an issue. The Park Service now says the problem is linked to the parks' very survival.

"If the American public doesn't know that we exist or doesn't care, our mission is potentially in jeopardy," said Jonathan B. Jarvis, who took over as director of the Park Service last year. "There's a disconnect that needs addressing."

The Park Service does not log attendance numbers at individual parks by race or ethnicity. But in a comprehensive survey it commissioned in 2000, only 13 percent of black respondents reported visiting a national park in the previous two years. That compared with 27 percent for Latinos, 29 percent for Asians and 36 percent for whites.

Jim Gramann, a visiting social scientist with the Park Service who is overseeing a review of a follow-up survey in 2008 and 2009 that is to be released early next year, said the gap persisted.

"The demographic face of America is not reflected in national park visitation, with a few exceptions," Mr. Gramann said. In the large Western parks especially, he added, visitors are overwhelmingly non-Hispanic white, highly educated and affluent.

Park Service officials have identified factors like cost, travel distance and lack of information – for example, ignorance about what activities the parks offer – as barriers to visits.

But some officials acknowledge that the parks may not seem welcoming to specific ethnic groups. They cited rules that limit the number of people in picnic areas or the number of tents that can be pitched at specific sites, which can clash with the vacation style of extended Latino families.

Yet no group avoids national parks as much as African-Americans. The 2000 survey found that blacks were three times as likely as whites to believe that park employees gave them poor service and that parks were "uncomfortable places."

Park Service officials emphasize that the demographics vary, and that parks like the Martin Luther King Jr. National Historic Site in Atlanta and the Manzanar National Historic Site in Independence, Calif., site of a World War II detention camp for Japanese-Americans, draw diverse crowds.

But attendance tends to be more homogenously white at wilderness parks like Yosemite, where a 2009 survey found that 77 percent of the visitors were white, 11 percent Latino, 11 percent Asian and 1 percent black.

When Ms. Winfrey visited Yosemite this month to tape her show, Mr. Johnson said, he was not surprised to hear that it was her first trip to the park and her first time camping. He said he was more likely to meet someone from Finland or Israel in the park than from, say, Harlem or Oakland, Calif.

"It's something that's pervasive in the culture – it doesn't matter whether you're Oprah or a postal worker," Mr. Johnson said. (Ms. Winfrey was traveling and unavailable for an interview, a spokeswoman said.)

Nina Roberts, a former education specialist for the Park Service who is an associate professor of recreation, parks and tourism at San Francisco State University, said her research showed that many blacks were anxious about the people they might encounter in the parks, a wariness that gets passed on through the generations.

Ms. Roberts said a 19-year-old woman in a focus group in Denver had told her: "My granddaddy told me the K.K.K. hangs out up in the mountains. Why would I want to go?"

Mr. Johnson, who was born in Detroit, said he visited Berchtesgaden in the Alps when his father was stationed in Germany as a staff sergeant in the Army.

Mr. Johnson, who majored in English literature and creative writing at the University of Michigan, became a ranger in 1987 after what he described as a lark of a summer job washing dishes at the Old Faithful Inn in Yellowstone National Park.

As he learned more about the Park Service's early history, he embarked on a work of fiction, "Gloryland: A Novel," published last year by Sierra Club/Counterpoint. The novel recounts the experience of a black cavalryman in the Army, one of the so-called Buffalo Soldiers who patrolled national parklands in the late 1800s and early 1900s.

Today, the Park Service's 25,000 employees are 83 percent white.

Incorporating stories like the Buffalo Soldiers' tale into tours and brochures is one step the Park Service has taken to be more welcoming as well as more accurate. But such efforts are scattered, said Mr. Jarvis, the agency's director, and far more are needed.

Mr. Jarvis said the Park Service was planning more partnerships with high schools that arrange park jobs for students and more naturalization ceremonies for new citizens in parks. It is also seeking to recruit employees at black colleges.

With the "The Oprah Winfrey Show" segments and a black family in the White House who made a point of vacationing in Yellowstone last summer, some experts suggest that the climate is favorable for a turnaround in park visits.

"It's all layered," said Carolyn Finney, an assistant professor of environmental science policy at the University of California, Berkeley, who is working on a book about blacks' relationship to the natural environment. "You need ways to make people think about the parks differently."

Read the story at the source