By Sarah Henry, California Magazine

John Scharffenberger's taste buds have been good to him. They guided him to success in his premium chocolate and sparkling wine companies, which he has since sold for millions. Scharffenberger established a U.S. audience for these gourmet goods in what had previously been a European-dominated luxury market.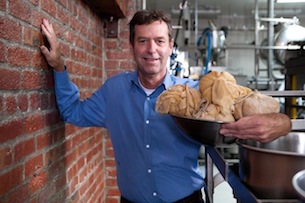 John Scharffenberger. Photo: Anne Hamersky

Today, the 59-year-old is taste-testing three decidedly different new ventures on the food front: a specialty meat, a fermented vegetable, and a humble little legume seeking serious artisan status. That last one may turn out to be his biggest challenge, given the American palate. This June, Scharffenberger '73 signed on as the CEO of the Hodo Soy Beanery in Oakland, a small tofu factory that crafts products from organic, non-GMO soybeans sourced from cooperatives in the Midwest. The company makes fresh tofu, yuba (tofu skins), and soymilk, as well as prepared dishes such as spicy braised tofu, poached yuba loaf, and soy omelette.

---
Read the full story in the Winter 2010 issue of California Magazine.