By John Holland

OAKDALE -- Bob Gilbert has logged untold miles traveling the state, showing dairy farmers how best to feed a cow. That work over seven decades with the A.L. Gilbert feed company, along with his advocacy for farmers in many venues, has earned him one of the state's top farming honors. Gilbert, 87, has been named Agriculturist of the Year by the California State Fair. He will be honored at a July 8 gala at Cal Expo in Sacramento.

"I feel very humbled by it," Gilbert said Friday outside the landmark feed mill on North Yosemite Avenue. "My wife (Beverly) and I like to play it low-key, but this – they say you have to stand up and be proud."
---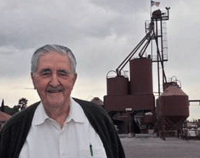 Gilbert is the last surviving child of Amos Lawrence Gilbert, who founded A.L. Gilbert in 1892. He still works full time as chairman of the company, which employs about 250 people in Oakdale and Keyes.

Gilbert has played a part in developing modern feed practices, mixing corn and other grains with supplements to meet the specific needs of cattle, poultry and other livestock. That work has helped California become the No. 1 dairy producer in the nation.

"It's very scientific," Gilbert said in a 2005 interview, when the company joined the Stanislaus County Agricultural Hall of Fame. "It's more scientific than what people eat." Gilbert has worked to boost dairy income through marketing programs and testified before state and federal decision-makers on farmers' concerns.

He is on the advisory board for the College of Natural Resources at the University of California at Berkeley, from which he earned a degree in agricultural economics.

"We're delighted that someone we respect so much is getting this recognition," said Dean Keith Gilless, who wrote a letter to the selection committee.

Gilbert saw early on that dairy farmers needed protection from unfair milk pricing, says a letter from Robert Kelley, president of James J. Stevinson Corp., a farming operation in Merced County. He also cited Gilbert's innovations in contracting for grain from the Midwest and Canada.

"Bob has an uncanny memory, a wonderful fatherly personality and many connections," Kelley wrote. "He has always been respected and listened to."

State Fair chief executive Norbert Bartosik said innovations by Gilbert and his company "have been adapted across the country for more than 60 years and helped producers optimize their individual production and efficiency goals."

Gilbert served as a Navy officer in the Pacific in World War II. He has four sons and a daughter, 18 grandchildren and six great-grandchildren.

Read it at the source.