By Ann Brody Guy
The Goldman Environmental Prize was awarded to Prigi Arisandi for his river restoration work in Indonesia, it was announced Monday, April 11 in San Francisco. Both Arisandi and his wife Daru Rini, who is the program manager of their conservation organization, are graduates of the College of Natural Resource's Beahrs Environmental Leadership Program (ELP).
Arisandi won for the "Islands" region. He was one of only six people in continental regions worldwide to earn the annual prize.
Arisandi attended ELP in 2008, and Rini attended in 2009. His organization, called Ecological Observation and Wetlands Conservation, or Ecoton, has focused on community-based monitoring of the Surabaya River in eastern Java since 2000. The Surabaya River is a source of drinking water for millions of people in and around Surabaya, Indonesia's second largest city.
---
"The government's number one priority is economic growth, especially through industrial development," Arasandi said during a recent celebration at the International House on the UC Berkeley campus. "The health of the river is not one of their big priorities," he said. "The drinking water is from the river, but there's no respect for the water. Industry disposes of untreated wastewater from factories–textile and paper, food, metal–all kinds of factories," he said.

Ecoton's work has turned the health of the river around, held polluters accountable, and gotten locals involved in affordable, low-tech monitoring methods.

Arasandi said both his and Rini's UC Berkeley experiences helped further Ecoton's work. He said he was thrilled when he learned he'd be studying with Vince Resh, professor of Environmental Science, Policy, and Management (ESPM).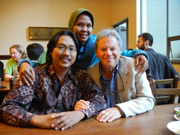 "Before I came here I knew Professor Resh through his book on water quality monitoring, so I got really excited when I saw his name of the list of teachers," he said.

From Resh he learned that biological monitoring–including, for example, tracking the health and population of waterbugs in the river–is easy and inexpensive, and that it can be used to gauge the health of the river before it becomes polluted.

He said Resh instilled students with a lasting respect for the river.

"There are so many creatures in there — the river is not for us; it's for the fish, the plants, the insects…," Arisandi said of the lessons he took home with him. He said Resh's guidance put them on the right path. "In my country, it's hard to find professors to support us because they are aligned with the government and with industry."

The late Haas School of Business professor Bill Sonnenschein was another mentor.

"Before ELP we always fought with industry and with government; we thought that confrontation was good, because it attracts attention from newspapers and from enemies," Arisandi said. "Professor Sonnenschein showed us that good communication means building partnerships to convince management of the importance of our work." He said they learned how to attract positive attention rather than negative attention, and how to build relationships.

Arasandi is the second ELP graduate in three years to win the prestigious Goldman Prize. In 2009, Rizwana Hasan, who attended ELP in 2003, won for her work on shipbreaking in Asia.

"The ELP program is elated for Prigi and Daru, and with this second alumni win, we are particularly proud that we are developing a track record of training the world's most successful and inspiring environmental leaders," said Robin Marsh, ELP co-director with agriculture and resource economics professor David Zilberman. "Their belief in improving health conditions for thousand of people with their small organization is a tribute to the investment in leadership that is at the core of ELP's vision," Marsh said.

The Goldman Environmental Prize is the world's largest annual prize honoring grassroots environmentalists. Winners receive $150,000 and a national platform that promotes worldwide awareness of their issues.

With the award money, Arasandi and Rini plan to establish a school focused on teaching about the conservation of natural springs, bringing professionals from all over Indonesia to show them how the forest works, to help them see the importance of respecting the water. Surrounded by his old friends at Berkeley, Arisandi said, "It will be like an Indonesian ELP."

Photos, top to bottom: Arisandi enlists local residents to assist in non-chemical monitoring of the Surabaya River in eastern Java, Indonesia; Arisandi (left), Rini, and Resh celebrate the prize with ELP friends at a pre-ceremony dinner at the International House.