By Brad Balukjian

From climate change to zebra genes, the 192 graduate students in Department of Environmental Science, Policy, and Management (ESPM) cover it all. At their annual research symposium this Friday, May 6, dubbed "Gradfest," fifteen Ph.D. graduates will present the results of years of intense work completed over Ramen noodles and Yali's coffee.

But this won't be your grandmother's symposium. To add some verve and to make the experience more personal, each presenter will enter to their theme song of choice, Ã  la baseball and professional wrestling. And as they arrive to the strains of The Beatles' "The Long and Winding Road" or Genesis' "Land of Confusion," they will be introduced by their faculty advisor, lab-mate, favorite uncle, or other presenter of their choice.
---
"I'm excited about the whole thing," said ESPM graduate student president Kayje Booker, who will discuss her work on the use of cook stoves to reduce carbon emissions in developing countries. "Our grad students are very passionate about what they do. They're very intelligent people who are curious about the world." She added, "I'm coming out to [Starship's] 'We Built This City' because I wanted something strong, something that was powerful and would really set up my talk on carbon."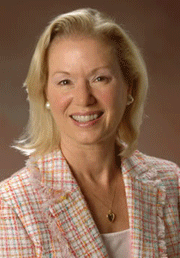 In addition to the talks, there will be a career panel of recent alumni; a mixer with local representatives from government, non-profit organizations, academia, and the private sector; and a keynote address.
How do you find a keynote speaker who can appeal to spider taxonomists and environmental justice researchers alike? Even the most disparate topics in ESPM are united by one common thread: an appreciation and concern for our environment. Enter Linda S. Adams, Secretary of the California Environmental Protection Agency, who will give the keynote address. Adams has devoted 38 years of her life to protecting California's water, land, and air, and most recently under former Governor Arnold Schwarzenegger, she negotiated AB 32, California's Global Warming Solutions Act of 2006, the nation's first legislation to limit greenhouse gas emissions.
Adams (pictured above) got her start in Gov. Jerry Brown's first term in the 1970s and '80s, and her career has now come full circle as a part of his current cabinet. In her talk, "Implementing California's Green Policies," she will discuss the challenges she has faced in negotiating environmental legislation. She will then open the floor for 20 minutes of Q&A with the audience.
Adams not only oversees California's environmental regulations, but she also leads her 5,000-employee Agency by example. When asked about how her personal commitment to preserving California's natural resources, she said, "I like to live the green lifestyle. I offset my personal carbon emissions through my two utilities, I buy only renewable power, and I drive a hybrid car. I try not to use too much energy."
She sees a great opportunity for ESPM graduates to join her in the fight to protect California's environment. "I always encourage graduates to go into public service," she said. "There's really nothing more rewarding than crafting public policy and implementing environmental policies that benefit all of California. I hope that some Berkeley students will come work for Cal/EPA someday so that we can attain some of the best and brightest scientists, researchers and policymakers as we move forward protecting and preserving our most precious natural resources while growing a thriving economy."

But for those who remain in academia doing research, what role can they play?

"We've had a lot of discussion recently about how to better connect science and policy," she said. "Virtually every decision that we make is based on sound science, so how the scientists and policy-makers communicate with each other is very important. It's important for scientists to be on the cutting edge of policy so that while crafting regulations, we get the most up-to-date, relevant scientific information throughout the development of our laws. We truly rely on each other to develop the best policies for California and we need to ensure that we're working together and communicating in a way that is accessible and understandable."

Adams will speak from 1-1:40 p.m.; for a complete Gradfest schedule, see the agenda. Registration is now closed.

In keeping with the green spirit, Gradfest is certified by UC Berkeley's Office of Sustainability as an official "Green Event." Composting and recycle bins will be available and clearly marked with detailed signs, vegetarian and vegan options will be available, there will be no bottled water, all handouts will be double-sided and at least 30 percent post-consumer recycled, and detailed information on food will be provided by the caterer.