By Ann Brody Guy

As chief park warden of the Udzungwa Mountains National Park in Tanzania, Fortunata Msoffe works with local communities to combat poaching and protect one of the world's key biodiversity areas.

Negash Teklu, a former news manager, parliament member, and liberation fighter in Ethiopia, now runs a non-governmental organization (NGO) dedicated to integrating reproductive health with the environment and with livelihoods in rural communities.

Roberta Rubim del Guidice is an environmental lawyer from Brazil who is working to make that country's complex web of regulation a more effective tool for conservation and sustainable use of forests.

These disparate and far-flung environmental professionals have one thing in common: they are all on the Berkeley campus this summer to attend the 2011 Beahrs Environmental Leadership Program.
 
Farzana Yasmin, left, a researcher at the Sustainable Development Policy Institute in Islamabad, Pakistan, welcomes her cohort with a love song while ELP co-director Robin Marsh looks on. Photos by Julian Sproul.
The unique three-week College of Natural Resources (CNR) summer residential program brings together emerging international environmental leaders who are working to affect change within their communities: to conserve natural resources, protect wildlife, both mitigate and prepare for global warming, and improve food security and market access - often for the poorest and most marginalized populations.
The 2011 program officially launched last night (Sunday, June 26) with a welcome reception that included program founder Dick Beahrs, CNR dean Keith Gilless, and CNR faculty members Vince Resh, Miguel Altieri, Matthew Potts, and David Roland-Host.
"We have a very impressive cohort this year," said center co-director Robin Marsh, the ELP's co-director. "There are 37 participants from 24 different countries - representing academic institutions, government ministries, and national and international national non-profit organizations."
Marsh said this year's class features the largest number of African women scientists ever to attend the program, a record number of Brazilians — seven — and brand new category of fellow: youth/student leaders.
"UC Berkeley students will be paired with ELP youth/student leaders to support sustainability research and activism on campuses around the world" Marsh said. "They'll form a new international support network as they pursue careers in sustainable development."
David Zilberman, a professor of agriculture and resource economics and Marsh's co-director, says the ELP emphasizes multidisciplinary perspectives and interactive learning.
"The program covers cutting-edge concepts and ideas to address global problems like climate change and food and fuel security," Zilberman said. "We provide training to enhance personal leadership and collaborative problem-solving skills and to develop strategies for sustainable management of natural resources and poverty reduction."

The ELP accomplishes these lofty ambitions by presenting leading voices from the Berkeley faculty and guest lecturers addressing policy, social sciences, public health, agriculture, economics, community and corporate collaboration, and climate change science, to name just a few topics.

Faculty and program leaders all emphasize that ELP fellows sharing their own experiences, expertise, and challenges with each other is one of the most valuable sources of learning the program has to offer. The program schedule reflects this approach, with fellow presentations and peer-learning in small thematic groups.
Fortunata Msoffe, left, addresses a classroom in a session on Monday, June 27
ELP fellows will attend field trips to the Blodgett Research Forest in the Sierra foothills and sustainable agricultural sites in Central California, and they will be addressed by a number of special guests, including a kickoff "Sustainability Dialogue" with best-selling author Fritjof Capra, and visits from Berkeley mayor Tom Bates and UC Berkeley Chancellor Robert Birgeneau.
What are the ELP fellows hoping to take back home from the experience?
"I'm looking for innovation, creativity, and a new way of seeing things," said Gianluca Gondolini, a fellow from Italy who manages sustainable agriculture projects in Latin America for the Rainforest Alliance and is based Costa Rica.
Eak Bahadur Rana, from Nepal, works with the government, civil organizations, and NGOs on issues like measuring forest carbon, safeguarding the rights of local forest managers, and protecting indigenous peoples. He was looking for ways analyze environmental issues for the variety of stakeholders he works with.
"I hope to find a way to link the practice on the ground with governmental and international policy," he said.
Most of the newly arrived fellows were just eager to soak in as much information as possible, and then take it back home to share it further.
Over the ELP's 11-year life span, institutions like the World Wildlife Federation, the Asia Foundation and United Nations agencies have continued to send participants every year, and generous CNR donors sponsor numerous attendees. The program has over 400 alumni representing 90 countries worldwide, including two Goldman Environmental Prize winners — Rizwan Hasan in 2009 and, just this April, Prigi Arisandi, who won the prize for his river restoration work in Indonesia.

Dick Beahrs, a 1968 UC Berkeley graduate, provided the seed funds to establish the Beahrs Environmental Leadership Program in 2001. Beahrs has served on the United Nations Hunger Task Force, is a Trustee of the School of Management at St. Petersburg University in Russia, is the Chairman of the Arbor Day Foundation, and is a CNR board member.

Dean Gilless said the Beahrs ELP is one of the College's programs he's most proud of.

"Dick Beahrs challenged us to do something to connect the dots, and we really got it right," Gilless said.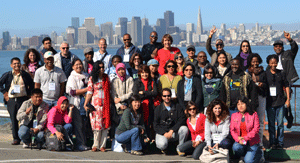 Beahrs Environmental Leadership Program, Class of 2011