By Ann Brody Guy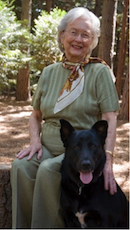 Lifelong conservationist Geri Bergen, B.S. Forestry, 1962, has been awarded the William Nickerl Award for Conservation Leadership by the Nevada County Land Trust (NCLT).
The award is given to individuals who demonstrate a long-time commitment to land conservation, successfully foster new efforts in the field of conservation, persevere in the face of challenges, and inspire others.
Bergen was the first woman to head a United States National Forest – one of many firsts her ground-breaking career in the male-dominated profession of forestry.
She began her career with the Forest Service in 1967 in a regional public—information post called "Women's Activities," where she handled a variety of outreach programs.
---
In the coming decades, Bergen progressed to Regional Environmental Coordinator, where she oversaw and developed policy to implement the National Environmental Policy Act, and then to Deputy Forest Supervisor of the Tahoe National Forest, which contains over 800,000 acres of public land and at the time had over 600 employees.
In 1985, Bergen was promoted to the job of Forest Supervisor — the first woman to hold that rank. Later she moved up to the Forest Service's national office in Washington D.C., as Deputy Director of Environmental Coordination. She retired as Acting Director of that office in 1994, and returned to Nevada County, Calif.
During her long career, Bergen built a reputation for effective management and listening to the concerns of others, even in high-profile disputes such as Northern spotted owl and later the California spotted owl.
Her volunteer conservation activities have included work for Save San Francisco Bay and People for Open Space. She was active in Business and Professional Women for many years and served on the NCLT board for more than 12 years.
The award ceremony was held April 30 at a NCLT dinner in Grass Valley, Calif.
The Nevada County Land Trust exists to create a balance between nature and the needs of the people who make their lives and livelihoods there.