By John Battles, Professor of Environmental Science, Policy, and Management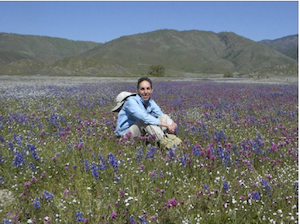 BERKELEY – Rebecca Wenk, a research associate in the Department of Environmental Science, Policy, and Management (ESPM), died after a brief battle with thyroid cancer on Thursday, July 14. She was 31.
Wenk started working in ESPM while still an undergraduate at UC Davis in 2001. She began working in the range and forest ecology labs in ESPM, and after graduation continued there for the next 10 years. Along the way, she spent two years earning her M.S. in botany from San Francisco State University and the California Academy of Sciences. Since 2007, she split her time working at Berkeley as a research associate and at the Cal Academy of Sciences as a curatorial assistant.
Wenk's fascination with plants is renowned. While she was a dedicated ecosystem scientist, plants were her primary passion, an interest that she shared with great relish. Her botanical expertise will be hard to replace. She was also a talented photographer and artist, capturing her love of plants and the outdoors.
We will greatly miss her friendship, enthusiasm, and sense of humor.
---
The Wenk family is planning to establish a nature preserve to fulfill some of Rebecca's dreams about nature and plants.

For those who wish to contribute, please send checks to:

The Nature Conservancy
c/o Jessie Booth
201 Mission St. 4th Floor
San Francisco, CA 94105

Or you many also speak directly to Jessie Booth at 415-281-0407. Please specify that donations are in memory of Rebecca Ciresa Wenk (Acct# 8425040).

Read it at the source.