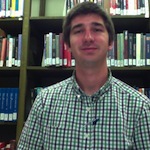 Conservation and resource studies senior Devin Richards is one of four UC Berkeley students to place at the top of an international competition for undergraduates.
This year, for the first time, the Undergraduate Awards of Ireland, historically an all-Ireland awards competition, was opened to seven of the United States' leading institutions, including Columbia, Harvard, Princeton, the California Institute of Technology and the University of Chicago, as program organizers sought to foster collaborative paths among students across subjects and international borders.
UC Berkeley was the sole public university selected from the United States. The international competition was limited to just three categories.
Richards was named as a finalist in the category of sustainability for his paper titled "Urban Growth, Future Opportunity: Can urban growth provide a means for creating a sustainable future for 8.2 billion people?"
---
His paper explored the possibilities for sustainability offered by urban growth environments, particularly China, where the world's most rapidly demographic shift from rural to urban has taken place over the last 20 years.

"I argued that through increases of efficiency, technology shifts, and movement towards renewable resources, opportunities for sustainability exist," Richards said. Yet on national, regional, and international levels, he added, policy formation and implementation are needed to create market mechanisms that support smart growth.

Richards said his conservation and resource studies (CRS) major at the College of Natural Resources (CNR) prepared him for this opportunity by allowing him to study the multiple dimensions of urban growth and sustainability.

"CNR and my major CRS have allowed me to pursue the multiple topics -- ecology, environmental problems, economics, and behavior -- that I believe are crucial to creating successful and progressive ideas regarding urban growth and sustainability," he said.

Richards and his fellow winners and finalists will travel to Ireland to be honored at the 2011 Undergraduate Awards ceremony at the Royal Irish Academy in Dublin.

Read the UC Berkeley New Center story on all the UC Berkeley students that topped the international categories.

By Ann Brody Guy