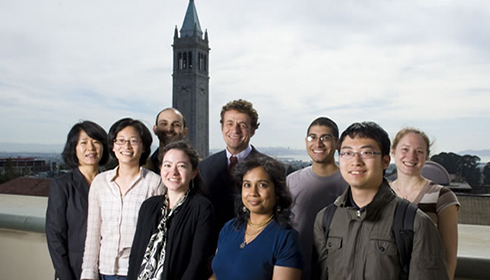 Nancy Peluso, a professor in the Department of Environment Science, Policy, and Management (ESPM), has won the Graduate Division's 2012 Sarlo Graduate Student Mentoring Award for Senior Faculty.
Alastair Iles, also of ESPM, has won the Graduate Assembly's Distinguished Faculty Mentor Award.
"Nominated by inspired colleagues and graduate students, the award recipients have excelled both at encouraging UC Berkeley graduate students to pursue new ideas creatively and at helping them to succeed academically and professionally," said an email signed by a faculty vice provost Janet Broughton, a Graduate Division dean Andrew Szeri, and Graduate Assembly president Bahar Navab.
A full list of the winners can be found here. They will be honored at a public awards ceremony from 4 to 6 p.m. April 18 in Tan Hall.
The Sarlo Distinguished Graduate Student Mentoring Awards recognize UC Berkeley faculty for their vital role in mentoring graduate students and training future faculty. The awards are sponsored by a grant from The Sarlo Foundation, a supporting foundation of the Jewish Community Federation of San Francisco, the Peninsula, Marin and Sonoma Counties.
The UC Berkeley Graduate Assembly Faculty Mentor Award, now in its eighth year, honors members of the Berkeley faculty and teaching staff who have shown an outstanding commitment to mentoring, advising, and generally supporting graduate students.

-Ann Brody Guy