By Karyn Houston, Plant and Microbial Biology

Scientists today deal with daunting volumes of data, and one of the most basic challenges facing researchers is how to organize that information into a usable format that can inspire new scientific insights. Now a nationwide team of university and private industry collaborators, including University of California, Berkeley plant biologist Chelsea Specht, have come up with a way to visually portray data so scientists can see, at a glance, how organisms are related.

It's called "tree-thinking," and the team will create a software package that will enable scientists and researchers to analyze data across the tree of life, enabling new evolutionary-based research to emerge that spans a tremendous range of fields, including medicine, public health, agriculture, ecology, and genetics.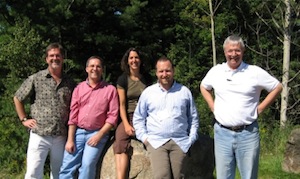 Five university researchers will collaborate on the NSF-sponsored project.
The software will be developed with a $2 million grant from the National Science Foundation, shared by Specht and seven other university and private researchers in a unique collaboration to be announced this week. Taking available tools to a new level, the open-source software, called Arbor: Comparative Analysis Workflows for the Tree of Life, will be an intuitive interface based on visual workflows.
"With this application a researcher can identify patterns of molecular, developmental and morphological evolution, and then further explore those patterns and the processes driving diversification using novel analytical and visualization tools," Specht said. "The visualization capacity of Arbor will enable researchers to study previously unrecognized phylogenetic connections across space and time."
Analyzing on a Grand Scale

In this era of "big data" in science, the tree of life is evolving rapidly and dramatically. A "phylogeny" is the evolutionary history of the development or evolution of a particular group of organisms. We now have available large-scale phylogenies and massive amounts of data, including character traits, plant traits, mammalian traits and gene data, Specht said. Better software to be able to view that complex data is a must for scientists and researchers, with the lofty goal of being able to better understand evolutionary processes.

The software will enable developmental biologists, geneticists, ecologists, geographers, paleobiologists, educators and students to analyze diverse types of comparative data on a grand scale. They will be able to see, at a glance, how organisms are interrelated and how they interact in geographical space and geological time.

"Arbor will enable any scientist to address comparative questions applicable to crop improvement, human disease profiling, or developmental genetics — it will enable scientists from various disciplines to place their research questions into a phylogenetic context and use comparative tools to uncover novel patterns leading to new ideas on how to understand relationships or solve," Specht said.

Read the full story at the source.