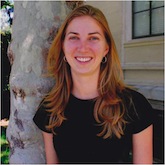 Ellen Kersten, a doctoral student in the Department of Environmental Science, Policy, and Management, authored the winning paper in the 2012 Student Research Contest of the journal Preventing Chronic Disease, the journal announced this week. Her primary advisor is associate professor Rachel Morello-Frosch.
The winning paper is "Small Food Stores and Availability of Nutritious Foods: A Comparison of Database and In-Store Measures, Northern California, 2009," a study of the true characteristics of stores identified in common food databases as "small groceries," a category that also includes traditional supermarkets and indicates stores that should carry a variety of nutritious food items and fresh produce. Instead, after visiting more than 100 stores, Kerston found more than half the stores in her random sampling were actually convenience stores, with no nutritious food options.
Public health implications of this misidentification are significant, since "other recent studies have shown that availability of healthful food in a neighborhood can influence individuals' diets and incidences of chronic diseases such as diabetes," Kersten said in an interview with the Centers for Disease Control (CDC). Policymakers are aware of this line of research, she said, citing Michele Obama's Let's Move campaign as just one example of programs and policies that seek to improve access to nutritious food in neighborhoods--efforts that can be helped by making sure accurate information is available.