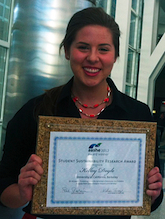 A recent UC Berkeley graduate has won a sustainability research award from the Association for the Advancement of Sustainability in Higher Education (AASHE) for her senior thesis calculating the campus's greenhouse gas emissions based on its entire supply chain of goods and services.
Kelley Doyle, who received a B.S. in environmental sciences in May 2012, presented her thesis, "Converting university spending to greenhouse gas emissions: A supply chain carbon footprint analysis of UC Berkeley," at AASHE's annual conference in Los Angeles earlier this year. She won the association's undergraduate research award for 2012.
Doyle's thesis, written with support from adviser Chris Jones, a staff research associate in Berkeley's Energy and Resources Group, a CNR affiliate, calculates a supply-chain carbon footprint for UC Berkeley based on more than $500 million in procurement expenses in fiscal year 2009. The study presents recommendations to reduce supply-chain greenhouse-gas emissions, identifies opportunities for future study and develops a reproducible tool for UC Berkeley to use in its annual greenhouse-gas emissions reporting.