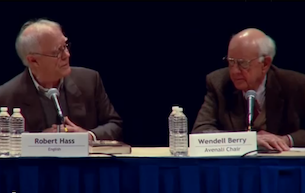 Avenali Chair in the Humanities Wendell Berry discussed food, agriculture, the environment, and a range of related social and cultural topics at an October 31 event with UC Berkeley faculty panelists Michael Pollan, Graduate School of Journalism; Robert Hass, English; Miguel Altieri, Environmental Science, Policy, and Management; and Anne-Lise Francois, English and Comparative Literature.
Wendell Berry is a conservationist, farmer, essayist, novelist, and poet. He is the author of over 40 books including The Unsettling of America: Culture & Agriculture, and the well-known "Port William" series. The master of many genres, Berry's focus on farming, community, and agricultural and ecological thinking has remained a constant throughout his work. He has farmed a hillside in his native Henry County, KY, for more than 40 years.
Berry earned a B.A. and M.A. in English at the University of Kentucky, and in 1958 he attended Stanford University's creative writing program as a Wallace Stegner Fellow, studying under Stegner in a seminar that included Edward Abbey, Larry McMurtry, Robert Stone, Ernest Gaines, Tillie Olsen, and Ken Kesey.
You can also watch Wendell Berry's November 1 Reading and Discussion, which took place in the Berkeley Art Museum Theater.