By Louis Sahagun, Los Angeles Times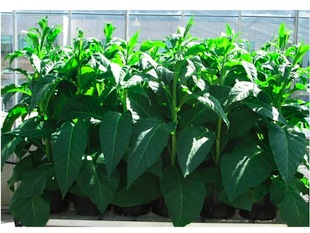 Tobacco plants genetically modified to produce biofuels. PHOTO: Anastasios Melis, Department of Plant and Microbial Biology
Once celebrated as an economic mainstay, the tobacco industry has been hard hit by health concerns, bans, lawsuits and the social stigma of cigarette smoking.
Now, UC researchers are testing the plant's potential to be genetically modified in order to produce socially acceptable bio-fuels to power airplanes, cars and trucks. Preliminary results are encouraging, but more research is required before tobacco can be commercially farmed as an energy crop to meet the demand for alternatives to fossil fuels.
The effort hinges on the introduction of genes, primarily from algae that turn sunlight into oil, into the cells of tobacco leaves. The researchers hope that the modified cells can be used to grow mature plants that make the same kind of oils that algae do.

Read the full story at the source.

Related:
Watch a video about this research.
Read New York Times blog posting.