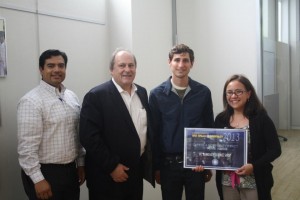 Team members Karen Adrade (right) and Zack Fischmann (next to Karen) making their pitch for the Science Shop.
Big Ideas@Berkeley is an annual innovation contest which aims to provide support, funds, and encouragement to interdisciplinary teams of students on campus.
A team led by ESPM graduate and undergraduate students took first place in the category of Improving Student Life and third place in the Grand Prize Pitch Day with the UC Berkeley Science Shop Project.
The Science Shop proposes to be a visible and accessible entity within the University that connects community members with researchers. Small businesses, non-profits, local government, and other civic organizations can submit research questions to the Science Shop which will then funnel these questions to students seeking research projects. This will give students the opportunity to merge their interest in research with their desire to contribute to the welfare of their communities.
ESPM Team members include:





Zack Fischmann, Conservation and Resource Studies Junior


Ellie Lum, Conservation and Resource Studies Junior


Ashley Ellis, Conservation and Resource Studies Senior


Michelle Endo, Society and Environment Sophomore

 
Outside-ESPM members include:
Sushma Bhatia, MBA Candidate Haas School of Business


Leah Rubin, Graduate Student, Chemistry


Erik Behar, Sr Programmer San Francisco Tech Startup