By Ann Brody Guy, UC Berkeley College of Natural Resources

What do you do if you have three academic degrees in forestry-related topics and your home country is a desert? Plant trees, of course.

For Rida Sherif, one of two first-ever Libyans currently attending this summer's Beahrs Environmental Leadership Program (ELP) at the University of California, Berkeley, reforestation is a simple math problem. "There are 6 million people in Libya. If each one of them planted 5 trees, we'd have 30 million trees, just like that," he illustrates with the snap of his fingers.

"Trees are important to manage desert encroachment and sand storms," Sherif says. "Sand dunes form and cause road closures, traffic accidents, loss of limited fertile soil, and various diseases, especially respiratory ailments." He cites research showing trees produce a 50-70 percent reduction in dust, depending on the tree density. What few trees there were have been cut down for wood in a country whose first priority in its post-conflict environment is just trying to maintain basic law and order.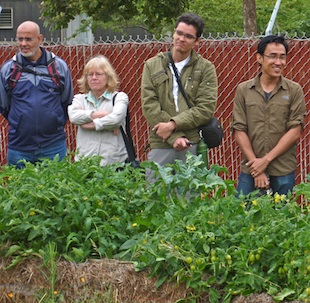 Sherif, a native of Tripoli who is wrapping up a Ph.D. at Mississippi State University, focuses on using satellite imagery data and geographic information systems as tools for monitoring, assessing and predicting the trend of environmental change. He is using his time at the ELP, the annual summer training for mid-career environmental professionals from around the world, based at UC Berkeley's College of Natural Resources (CNR), to develop his leadership abilities and build the network that will help him establish a non-governmental organization to work on preserving existing forests and natural vegetation, and planting new trees inside and outside the cities.
"The ELP provides context for environmental activism, and leadership skills for international environmental entrepreneurs," said Ethan Chorin, a Libya expert who received his Ph.D. from UC Berkeley in Agricultural and Resource Economics in 2000, and went on to serve as one of the first US diplomats in Tripoli since 1980.
Chorin was a pivotal force in bringing the new Libyan presence to the ELP. He identified qualified candidates and secured funding from several organizations, including The Berkeley Research Group, where he is a director. He plans to continue to build partnerships with other UC Berkeley programs, such as the Masters in Development Practice, also based at CNR, and the Blum Center for Developing Economies.
Khaled Ben Halim, founder of Libyan Animal Welfare Society and the other Libyan attending the ELP this summer, welcomes such partnerships. Formerly in sales and banking, Ben Halim became a U.S. citizen more than 30 years ago, and speaks perfect English with the slight twang of his Dallas, Texas, home-base. But he retained dual citizenship and after the fall of Muammar Khaddafi began returning to Libya every few months to help rebuild his homeland and pursue his life-long passion for the protection and well-being of animals.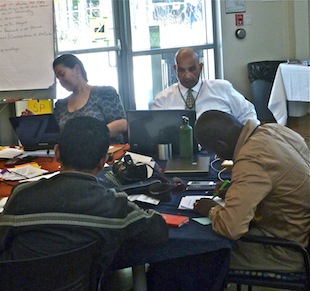 Khaled Ben Halim (top right), at a workshop with other Beahrs ELP participants, including Dana Rassas from Palestine (top left). Photo: Zoe Laventhol
"My job is to get ground-level work done in support of animals–both wild and domestic," he says. For example, most oil companies are usually happy to provide funding if asked, to benefit from the positive public relations, he says. His goals for domestic animals include setting up a no-kill animal shelter, a trap-neuter-release program to reduce the huge population of feral cats in the cities, and working towards outlawing the poisoning of strays.
His wildlife efforts include encouraging forest and urban cleanup by banning routine use of plastic bags, which create a toxic hazard for wildlife, and promoting awareness through NGOs like the Libyan Wildlife Trust.
"Because there's no law and order, people are killing wildlife indiscriminately," he says, including the Egyptian turtle, which was characterized as critically endangered back in 2003, and now faces a worsening situation. "The government has other priorities, so I need to explain to them why it's to their benefit to deal with these issues now, for the long term."
Like Sherif, Ben Halim wants to use his ELP experience to benefit from others' successes and to learn how best to get his message out. He knows he has a long way to go in a society that has been closed for generations.
"People are so used to the government doing everything for them. They need to reset their thinking," Ben Halim says. "There are a lot of groups that want to do something but they don't have the contact with the outside world." As a facilitator connecting communities and activists to expertise, he hopes to leave a legacy of a Libya with a more modern attitude towards animals. "I truly believe that you can judge a society by the way it treats animals. Until all life is respected, a society cannot be considered enlightened."
"Libyans are feeling frustrated and abandoned, faced with problems that seem almost insurmountable," says Chorin, who teamed up with a Libyan-American colleague in 2011 to found the Avicenna Group, which has been working to rebuild medical and environmental capacity in post-revolution Libya. The undertaking had the early support of U.S. Ambassador to Libya Chris Stevens, also a UC Berkeley alumnus, who was slain by Islamic extremists in Benghazi on September, 12, 2011.
Chorin says the ELP is an important avenue for making change. "Here we have two passionate advocates, armed with new context, contacts and inspiration, who will return to their country to provide indigenous solutions."

Related:

- Nurturing Environmental Leaders

- Ethan Chorin: The California-Libya Connection, Huffington Post