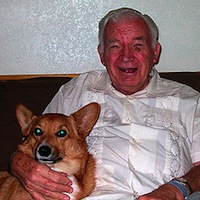 Professor Emeritus Arnold Schultz died on May 25, 2013. He was 92 years of age.
Arnold helped to created the conservation and resource studies major back in 1970 that today still exists at the College. He was a beloved teacher and mentor and his early research career focused on prescribed brushland and forest burning, quantitative ecology methods, as well as tundra and desert ecology.
Arnold is best known for his thought-provoking and innovative course in Ecosystemology. Through the Ecosystemology course, Arnold encouraged his students to think about whole ecosystems and inspired them to be fervent environmental educators. These are themes we still hold dear today at CNR.
The family requests that memorial gifts be sent to one of Arnold's two funds at CNR:
-The Arnold Schultz Fund for Conservation (supporting undergraduate programs and scholarship)

-The Arnold Schultz Fund for Graduate Students in Society and Environment

Former students are planning a celebration from September 13 through the 15th at the Woodland camp in Mendocino. A memorial service in Mendocino is also being planned.

For more information on these events please get in touch with Kathryn Baldwin.
-J. Keith Gilless