UC scientists combat resurgence of bedbug in behavioral studies and monitor trials

By Pam Kan-Rice, UC Division of Agriculture and Natural Resources


Bedbugs are showing up more frequently in California and around the world, and new UC research shows that current methods for detecting the blood-sucking pests aren't very reliable.

Detecting bedbugs is key to controlling them so a UC study tested three commercial monitors. At best, the monitors containing attractants captured 10 percent of the bedbugs, wrote scientists from UC Cooperative Extension, UC Berkeley and UC Riverside in the July—September 2013 issue of California Agriculture, UC's peer-reviewed journal of agricultural, natural and human resources.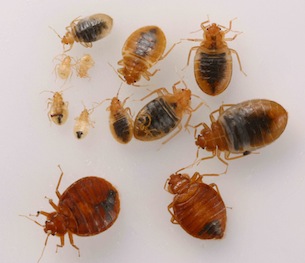 As bedbugs become more prevalent, the researchers call for improving monitors as well as developing new methods to lure the insects more effectively
"If we could put out bait and the bedbugs find it and die, wouldn't that be great?" said Vernard Lewis, UC Cooperative Extension specialist in the Department of Environmental Science, Policy and Management at UC Berkeley and lead author of the article. Lewis is testing attractants for bedbugs and observing their behavior.
In Villa Termiti, a room built for studying insects, Lewis set up an experiment to see how far the bedbugs moved in a 24-hour period. He found that the bedbugs moved around to a bed, rug or low table, but most stayed close to the cardboard on which they were released in the middle of the floor. The monitors containing attractants captured up to 10 percent of the bedbugs, twice as many as the monitors that didn't contain attractants, but not a statistically significant difference.
Lewis and his colleagues are studying new ways of detecting bedbugs and exterminating them.
Effective detection to determine the effectiveness of treatments made to eliminate bedbug infestations would be helpful. "When a property is treated and bedbugs reappear, at this point, we can't tell whether the bedbugs survived the treatment or they are moving in from next door," Lewis said.
The Lewis Lab is also exploring new methods of bedbug control that minimize the use of pesticides.

Co-author Dong-Hwan Choe, UC Cooperative Extension specialist in the Department of Entomology at UC Riverside, is currently studying essential oils from plants such as clove and wintergreen to see if they can be used as alternatives to synthetic insecticides.

Because dogs are often used to sniff out bedbugs, Choe is trying to recruit dog handlers to participate in research to evaluate the effectiveness of their dogs at detecting bedbugs and to study their training methods.

Andrew Sutherland, UC Cooperative Extension advisor for the San Francisco Bay Area, has been meeting with pest control professionals to share the latest bedbug research results and integrated pest management approaches to minimize the amounts of pesticides used.

Sutherland also has begun training UC Master Gardener volunteers to answer questions about bedbugs and to share information about integrated pest management to control insects in the home.

"Master Gardeners in urban counties increasingly get requests regarding household pests," said Sutherland. "UC ANR is interested in providing education and outreach on this topic because urban pest management significantly impacts water quality and other environmental resources. I have designed a 'Household Pests' unit used in 'Advanced IPM Training' for Master Gardeners.'"

"Master Gardeners will be able to help residents identify bedbug specimens and direct the general public to our Pest Note at http://www.ipm.ucdavis.edu/PMG/PESTNOTES/pn7454.html," he said.

"Many clients think they may have bedbugs, but actually have recovered specimens of other insects," Sutherland said. "In those cases we are able to prevent unnecessary and sometimes dangerous pesticide applications. When bed bugs are identified, our message is always to contact a professional pest control operator."

Bedbugs do not jump or fly, but the immature stages are light enough to be carried on a strong breeze. People can also inadvertently carry them around on linens or clothing. The eggs can cling to the bottom of a shoe and be carried to a new room, especially in carpeted areas. While the brownish red adult bedbugs are the size of a small apple seed and noticeable, hatching nymphs are the size of a grain of sand and a creamy whitish yellow color that is difficult to see.

The exact causes of the bedbug resurgence are not known, but increased international travel among people, pesticide resistance among bedbugs, the ease with which bedbugs can spread, and reduced indoor use of residual insecticides may be contributing factors.