This Sunday (October 13) marks a key milestone in the relationship between UC Berkeley, urban agriculture activists, and residents local to the plot of agricultural land near the Albany-Berkeley border known as the Gill Tract.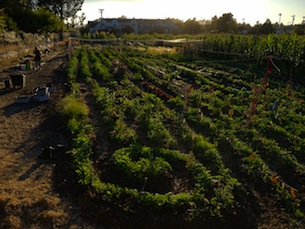 Above and below, volunteers participate in the pilot learning lab at the Gill Tract in Albany. PHOTOS: Daniel Cardozo
"Community Forum on the Gill Tract Farm: A Laboratory for a Resilient Future" is an all-day event co-sponsored by the UC Berkeley College of Natural Resources (CNR), UC Cooperative Extension Alameda, and the Gill Tract Farm Coalition–an umbrella group for various community activist organizations interested in seeing urban agriculture conducted on the site. The three groups have invited the local community to the joint event so they can work together to create a unified community-University partnership for the future of the UC Regents-owned agricultural tract, which is farmed by CNR scientists conducting plant and agricultural research.
The day's proceedings include a harvest from the University-community educational pilot project currently taking place on the land. Since 2012, CNR faculty members and Cooperative Extension specialists have been developing opportunities to allow community members to gain educational benefits from Gill Tract—based research. This summer, agroecology professor Miguel Altieri launched a pilot effort toward that end: an ongoing participatory urban-agriculture research project with a group of 40 UC Berkeley students and community members. The project seeks to determine how much food the group can grow through November, using agroecological methods.
The event, to be held from 10 a.m. to 4 p.m., celebrates the success of that pilot learning lab with a farm-fresh lunch, music, free vegetable seedlings, and educational workshops for all ages–including soil sampling, kimchi making and a "Garden Doctor" booth run by UC Cooperative Extension's Master Gardener program.
Most importantly for the future of the collaboration, there will be UC-facilitated discussions to share ideas for future projects. CNR Dean J. Keith Gilless says he hopes the forum attracts a wide variety of people from across Albany and Northwest Berkeley neighborhoods.
"Numerous and diverse voices in these listening sessions will help us gauge the local community's priorities for agricultural education," Gilless said. "Likewise, community members can learn first-hand what our scientists are working on, and learn about some of the protocols involved with conducting legitimate science that will stand the test of rigorous review."
CNR, originally the College of Agriculture before it merged with the forestry program in the 1970s, recently added a faculty position focused on "agriculture, society, and food security," and has scientists conducting a wide variety of agriculture-related research not connected to the Gill Tract. Some of those faculty members will be on hand on Sunday to present short workshops, including how to lure pollinators to your home garden, and information about foods and medicines native to California.
Glenda Humiston, California state director of the U.S. Department of Agriculture's rural development program, will help introduce the event, along with Gilless, Altieri, and Daniel Cardozo, an Albany resident and father of three.
"This Sunday we have a chance to show how much we've managed with small overhead, how much enthusiasm residents of the area have for urban agriculture, and a physical model to inspire the public about the potential for urban farming on the Gill Tract," said Cardozo, a participant in the pilot project. He envisions a public-education collaboration from kindergarten all the way through university-level research. "I'd love to see coordination between CNR and local schools for projects and lessons that meet Common Core curriculum standards, while exposing young people to new ideas about alternative food systems and food justice," he said.
Cardozo and other local residents, along with students, researchers, and urban agriculture enthusiasts, will have an opportunity to share their ideas during the "Community Forum" portion of the event. The schedule includes:

- 10 a.m.-Noon — Open field: Play, harvest, and educational workshops
- Noon-1 p.m. — Lunch and bake-off
- 1-2 p.m. — Storytelling circle: History and future of the Gill Tract
- 2-4 p.m. — Community Forum: Facilitated discussion to share ideas for next season's community-education projects at the Gill Tract

Read the complete program.
Read the event flyer.

– Ann Brody Guy