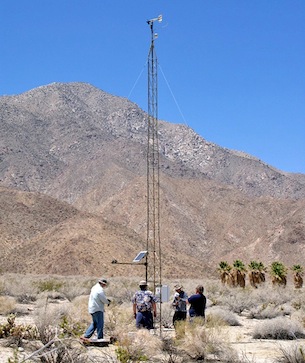 Natural Reserve System climate monitoring stations provide highly accurate weather data at reserve sites across the state, includ­ing this one at the Steele/Burnand Anza-Borrego Desert Research Cen­ter. PHOTO: NPS
The University of California's Natural Reserve System (NRS) has just completed the installation of weather stations at 20 of its 38 reserves that will gather and disseminate real-time climate data.
The weather stations will allow scientists to connect their on-the-ground observations about ecology – acorn production, range shifts in plants and other changes – to the effects of climate. The information will be fed to a central online site that is a hub for disseminating major weather station information and is publicly available.
UC Berkeley has played a large role in the project. The three co-principal investigators are Eileen Lacey and Mary Power, both professors of integrative biology, and Mark Stromberg, emeritus manager of Berkeley's Hastings Natural History Reservation. In addition, five of Berkeley's six NRS reserves are part of the network: Angelo Coast Range Reserve, Hastings Natural History Reservation, Blue Oak Ranch Reserve, Sagehen Creek Field Station and Chickering American River Reserve.