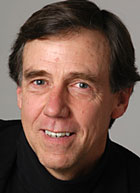 Harrison Fraker, a UC Berkeley professor of architecture known for his trailblazing work in sustainability and a former dean of the College of Environmental Design, is the 2014 recipient of the Topaz Medallion for Excellence in Architectural Education, the leading award in architectural education in the United States.
The prize was announced today (Tuesday, Dec. 17) by the Board of the American Institute of Architects (AIA) and the Association of Collegiate Schools of Architecture (ACSA). The Topaz Medallion honors an individual involved in architecture education for more than a decade whose teaching has influenced a broad range of students.
In announcing the latest Topaz Medallion winner, the organizations commended Fraker, currently the chair of the UC Berkeley's Energy and Resources Group, for pushing the academic study of energy use in buildings to the forefront of the sustainability movement.
Among Fraker's best-known work is his 2006 studio class on Tianjin, China, which has served as a model of international interdisciplinary collaboration and led to his "EcoBlock" concept of neighborhood design that is zero-carbon, self-sufficient in terms of resources and economically-viable. Much of his work is reflected in his new book, "The Hidden Potential of Sustainable Neighborhoods: Lessons from Low-Carbon Communities"(2013).
"He has profoundly influenced the teaching of architecture and urban design through his many students over the years," said Jennifer Wolch, current dean of CED. "An early advocate of design strategies for energy efficiency, Harrison pioneered their integration into mainstream architectural curricula, affecting a wide range of architecture programs. These innovations have shaped the thinking of successive generations of architects, in turn influencing practice."
Fraker's focus on sustainability began early in his academic career. In 1972, he and engineering colleagues at Princeton University established the Center for Environmental Studies, an interdisciplinary center focused on understanding how buildings interact with the environment.
Around the same time, Fraker also launched two professional-practice partnerships to design environmentally responsible buildings, conduct applied research, and provide energy design assistance to other architects. These endeavors led to energy monitoring tools, more than a dozen passive solar houses, as well as passive solar and naturally-cooled offices and libraries.