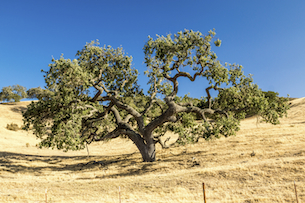 UC Berkeley and Ohio State University researchers have developed a way to predict the resistance or susceptibility of trees to sudden oak death disease, providing forest managers with the first effective method to manage trees in infested natural areas and in adjoining areas where the disease is expected in the future.
Sudden oak death, a forest disease caused by the invasive fungus-like pathogen Phytophthora ramorum, was first detected in California in 1995. It has since killed millions of tanoaks and trees of several oak species on the West Coast. It is also a potential threat to the valuable Eastern oak species, some of which are known to be highly susceptible to the disease.
"This is the first time anyone has been able to come up with a method to predict resistance to a forest tree disease in natural populations in the field," said Pierluigi Bonello, a plant pathologist with Ohio State's College of Food, Agricultural, and Environmental Sciences.

The discovery is described in the Jan. 15 issue of the journal Forest Ecology and Management. Brice McPherson, an associate specialist in UC Berkeley's Department of Environmental Science, Policy, and Management (ESPM), led the study, and ESPM professor emeritus David Wood was a co-author.

The novel method employs "biomarkers" of resistance, in this case compounds found in the phloem (inner bark) of coast live oaks that can indicate whether a tree is resistant or susceptible to P. ramorum. Bonello developed a model to predict levels of resistance based on the presence of those compounds, which is the basis for their discovery.

Without these biomarkers, Bonello said, it would take years to know which trees are likely to survive.

"Our biomarkers allow us to identify trees much faster and before they ever become infected," Bonello said. "Currently, it takes a week from the time small samples of phloem are collected to the time testing is done in our lab. We are refining the process to make it more user-friendly, faster and cheaper."

Read the complete Ohio State University press release.