The University of California is launching an initiative to marshal resources across the UC campuses – including Berkeley's 90 courses, 150 faculty and staff and multiple institutes and centers devoted to the study of agriculture and food – to address global challenges related to food.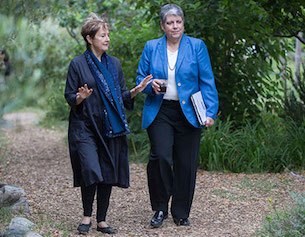 Sustainable food leader Alice Waters and UC President Janet Napolitano in the Edible Schoolyard. (UC photo by Robert Durell)
UC President Janet Napolitano announced the initiative today (July 1) at a press conference with restaurateur and sustainable food leader Alice Waters, among others, at the Edible Schoolyard at King Middle School in Berkeley.
The UC Global Food Initiative grows out of a commitment by Napolitano and the 10 UC campus chancellors to work collectively to intensify and expand the efforts of the world's premier public research university to support healthy eating, sustainable agriculture and food security.
Napolitano noted that by the year 2025, the world's population will grow by another billion people. Already, she said, 1 billion people go to bed hungry every night, while another half billion suffer from obesity.
"Our goal is far-reaching," Napolitano said. "It is to do all we can to help the world learn to feed itself in ways that are healthy and sustainable in the use of resources.
Berkeley is a major asset in the initiative, with its wide array of programs and initiatives related to food and agriculture systems. Examples include numerous degree programs from rangeland science to agricultural economics to public health and nutrition, and the registered dietitian program in the Department of Nutritional Sciences and Toxicology. There are also many interdisciplinary courses, such as the Edible Education course, based in the College of Arts & Sciences, which has been taught by journalist and author Michael Pollan. In addition, a new Minor in Food Systems will soon be launched by the College of Natural Resources.
Henry Brady, dean of Berkeley's Goldman School of Public Policy, told the press conference that the initiative's strength comes from the depth of work and research across the 10-campus system. Each location brings its own area of expertise, he noted.
"We at the Berkeley Food Institute are trying to see how we can transform the food system to be more sustainable and we want to do it through good science, good policy, good thinking," Brady said.
Also in attendance were Keith Gilless, dean of Berkeley's College of Natural Resources, and Ann Thrupp, executive director of the Berkeley Food Institute at UC Berkeley.
Gilless said he was excited to see the system come together for such an important goal, so that the "the sum is greater than its parts."
He added, "The time is right to mobilize the university's resources both to advance science and practices and to raise public consciousness about food issues broadly."