Final Update: Friday, 11:30 a.m.
Following rain on Thursday, Blodgett is out of danger from the King Fire. Mop-up operations continue. King Fire containment is listed as 78 percent.
A key University of California, Berkeley, research station is threatened by the King Fire in El Dorado County. Blodgett Research Forest, 4,270 acres located 10 miles east of Georgetown, is home to scores of UC Berkeley investigations on trees and other plants, fish and wildlife populations, insects, diseases, soils, atmospheric chemistry and wildfire management techniques.
Backfiring—controlled burns to contain greater wildfire damage—is expected to begin tonight (Friday, Sept. 19) from a fire line established today on the Blodgett property. The arson-sparked King Fire has burned more than 82,000 acres (as of Sunday night), triggering evacuations, incinerating trees, and closing Highway 50 and local roads.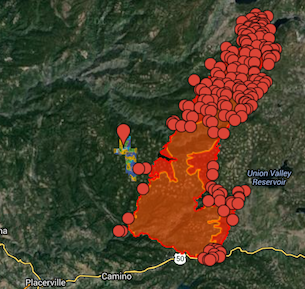 As of Sunday the fire was still 10 percent contained, according to Calfire. University personnel have been evacuated from the research station and UC Berkeley fire experts in El Dorado County and on the Berkeley campus, based at the College of Natural Resources (CNR), are coordinating with the U.S. Forest Service, which manages wildfires in this region, and Calfire on priorities for defending the property.
"With 50 years of annual harvests and 40 years of annual measurements of permanent plots, Blodgett is the Rosetta Stone for the Sierra Nevada with respect to the interactions of forests, management and fires," said William Stewart, a forestry researcher and co-director of UC Berkeley's Center for Forestry. The half-century of monitoring gives Blodgett the longest continuous record on forests in the Sierra Nevada.
While the spread of the King Fire to Blodgett would result in a discontinuity in the long-term data collection, it simultaneously would launch the start of data collection on a new continuum—a unique opportunity to learn, say Berkeley fire experts.
"You'll change that continuous record, but also start a whole new record that reflects the fundamental role of disruptive elements in Sierra ecology," said J. Keith Gilless, CNR dean and a forest economics professor.
Researchers would also get valuable information on current experiments and hypotheses.
"Our investments in improving forest resiliency will be severely tested if the King Fire enters our property," Stewart said. "We will find out how effective those investments have been." For example, effectiveness of vegetation treatments, such as cutting low brush and young trees, or creating patchworks of smaller clear-cut areas, will be tested in a more severe way than is possible under normal research conditions.
"You never say, 'let's light a really, really hot fire and see how the stand holds up,'" said Gilless. "But you can go in and do analysis after an event like this: We hypothesized these treatments would be effective; do they actually deliver when put to the test by an uncontrolled wildfire?"
Scientists are already preparing to collect data—soil samples, tree mortality rates, information on char height (burns to the trunks) and scorch height (burns to the treetops)— both to understand how the fire burned and increase the potential to bring back a healthy forest.
Not every tree dies in a wildfire. But damaged trees become more susceptible to pests and pathogens, which can kill them or inhibit the growth of other vegetation. "We can measure the potential resilience of a forest by understanding the level of damage and mortality, and how our forest-management practices influenced those outcomes," said fire science professor Scott Stephens.
The researchers say it's also opportunity to employ adaptive management, a forestry best practice that involves learning from the results of each fire, analyzing what worked, what didn't, and why; and then applying those lessons.
With the fire advancing and Blodgett in an area currently slated to be allowed to burn, researchers are scurrying to organize their efforts.
"Unlike much of the research we do, an event like this imposes its own timetable. You have to deal with it in real time," Gilless said. And while collective fingers are crossed that Blodgett will survive, Berkeley's fire researchers must prepare for any outcome. "Everything that transpires in nature is an opportunity to learn," added Gilless.
A Trove of Past—and Future—Data
The research station is located in an area where danger posed by severe wildfires is very high. For the past two decades it has been a center for UC Berkeley research projects that evaluate the effectiveness of treated plots against control plots—unmanaged ecological reserves.
The findings from this research have already had broad impacts on how fires are managed locally, statewide, nationally, and internationally. Data gathered at Blodgett have helped scientists, forest managers, and fire experts understand:
How different forest and fuel management techniques work over time;
How forest management approaches affect biodiversity;
How processes like nutrient cycling and carbon cycling actually operate in forests.
For example, biodiversity studies showed that a mosaic of tree sizes and openings create more habitat niches for birds and animals. Fuel treatment studies have shown that reducing tree and shrub densities increases the probability that medium and large size trees can survive wildfires.
Stephens, whose recent research includes thinning young forests to reduce fire risk and greenhouse gas emissions, says the King Fire is a symptom of California's larger forest problem.
"Almost all of the Sierra Nevada is in a state of high fire hazard because of past fire suppression, and harvesting that focused on large trees," a practice that left the more susceptible smaller trees and debris, increasing fuel loads. "It will take decades of active management to reduce hazards and produce resilient forests," Stephens said. "This will not be easy but it is possible. If we don't get this work done, future generations will not enjoy forests as we have, and forests will be fundamentally different, with much more severe wildfire impacts."

Related Links
-Fire map on UC Berkeley Center for Forestry
-Incident Information System map
-Blodgett Research Forest
-Professor Scott Stephens on KQED Radio's Forum program, explaining what led to current conditions in California.