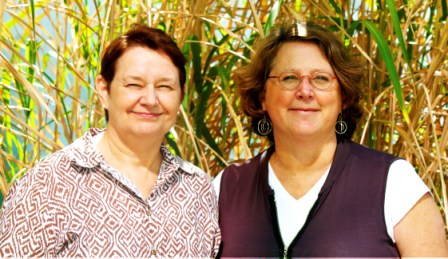 Plant and Microbial Biology (PMB) Associate Professor Mary Wildermuth (right) and PMB Professor Shauna Somerville
Two UC Berkeley scientists will lead a team of international researchers to obtain genome sequences for 11 powdery mildew fungi, a key step forward in managing a pesky pathogen that causes billions of dollars in agricultural losses each year if left untreated.
Mary Wildermuth, plant and microbial biology (PMB) associate professor, and Shauna Somerville, PMB professor, will do the genome sequencing work with resources from the U.S. Department of Energy Joint Genome Institute.
Powdery mildew affects a number of crops, and wreaks significant havoc on the grape industry. The mildew also negatively affects bioenergy crops, including eucalyptus and camelina.
Wildermuth and Somerville are hoping their work will ultimately reduce the amount of pesticides being used to control powdery mildew now. At the present time, pesticides are the only way farmers can control the mildew in many crops.