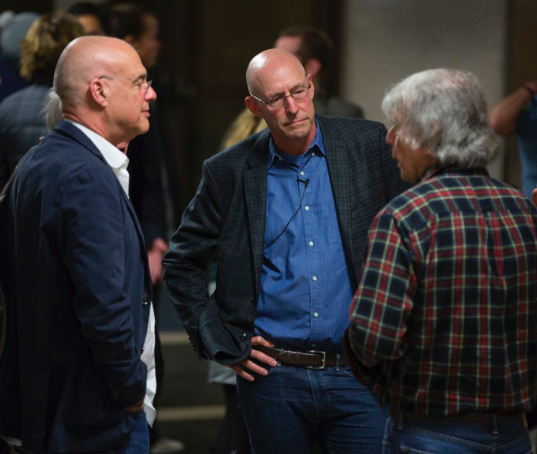 From left: Food writers Mark Bittman and Michael Pollan talk with soil science professor Garrison Sposito Monday, Jan. 26, at the opening for the Edible Education course, now based at the College of Natural Resources. Photo: Robert Durell
The Edible Education 101 course at UC Berkeley kicked off Monday (Jan. 26) with big-name excitement: an auditorium packed with students, the buzz of a public live-streamed audience and luminaries tackling the timely topic of food.
The course is not just about what we eat, but also how food is produced and its impacts on the economy, health and the environment. How the food system has been transformed, why it matters and what we can do about it.
"People care about food," said opening lecturer Michael Pollan, author and UC Berkeley journalism professor. "I think food is a very powerful teaching tool."
Pollan and Chez Panisse chef Alice Waters, a UC Berkeley alumna who founded the Edible Schoolyard Project, started Edible Education in 2011 as a way to bring food education to undergraduate students. This semester's course — which is co-hosted by New York Times food columnist Mark Bittman and poet Robert Hass — has an added dimension: Lectures are being live streamed to the public. The opening lecture has received more than 1,500 views so far. Upcoming guest speakers will include Marion Nestle, Eric Schlosser and Raj Patel.
"We're a public university," said course instructor Garrison Sposito, a renowned UC Berkeley soil scientist. "Let's reach the public. How can we do that in today's world? Let's do that by technology."
As part of the UC Global Food Initiative, UC Berkeley also hopes to offer Edible Education as an online course available for credit to students throughout the UC system, said David Chai, special advisor to UC Berkeley Chancellor Nicholas Dirks.
Edible Education is presented by the Edible Schoolyard Project, the Berkeley Food Institute, the UC Berkeley College of Natural Resources and the UC Global Food Initiative, with support from the UC Berkeley Chancellor's Office and the Epstein/Roth Foundation.
Read the complete story at the source.
Watch Michael Pollan's Jan 26 lecture.
Sign up for webscast or live screening.