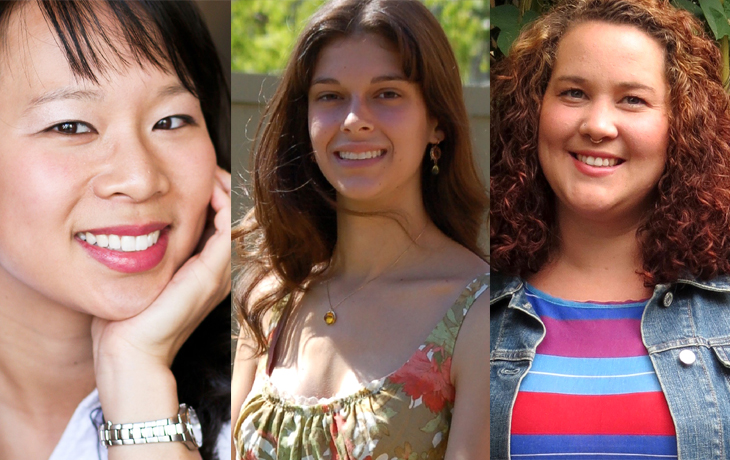 Left to right: Elaine Lander, Lauren Ponisio, and Laura Moreno.
Three CNR students are among the winners of the inaugural Global Food Initiative 30 Under 30 Awards, a UC competition recognizing individuals who have contributed to fields including food production, food access and security, food sourcing, food education and communication, and food policy and public impact. 
CNR award recipients are:
Elaine Lander (B.S., Environmental Science '09) - Elaine is program officer with the Food Literacy Center in Sacramento, which helps improve children's knowledge about healthy and nutritious food. She oversees hands-on education for 800 students weekly and reaches an additional 20,000 children each year by partnering with 300 community partners. 
Lauren Ponisio (Ph.D. student, Environmental Science, Policy, and Management) -  Lauren's primary research interest is in making agricultural systems better for humans and wildlife. She investigates strategies for designing agricultural systems to promote biodiversity conservation and the links between conservation strategies and improving livelihoods.
Laura Moreno (Ph.D. student, Energy and Resources Group) - Laura is project manager for a food waste measurement program for the Natural Resources Defense Council in Nashville, Tennessee. A 2008 Berkeley graduate, Moreno is focused on research and action in food waste tracking, prevention and disposal.