A new study of snow leopards' habitat has found that just one-third of their current range will be a refuge from climate change by 2070, as habitat loss and fragmentation in the Himalaya and Hengduan mountains threaten not just snow leopards, but other species in the region.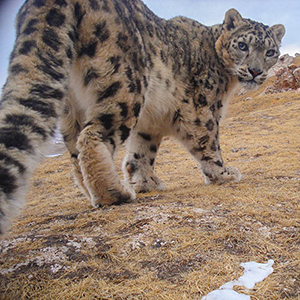 A camera trap caught an image of a snow leopard in China. (Photo by Shanshui/Panthera/Snow Leopard Trust)
Snow leopards live in remote, high-elevation area on and surrounding the Tibetan Plateau, known as "the roof of the world." The region is warming more than twice as fast as the Northern Hemisphere on average, threatening endangered species that call it home.
Among these species, snow leopards are critically important to the Tibetan Plateau ecosystem because they are apex predators, which keep the ecosystem in balance. To understand how snow leopards — and the entire ecosystem — will fare as the climate continues to change, researchers from UC Berkeley and Panthera, a wild cat conservation group, used past changes in the region to project future climate scenarios.
"Substantial conservation challenges will emerge as vast areas of snow leopard habitat are lost and become increasingly fragmented as a result of climate change. Getting ahead of and addressing these challenges now is imperative for snow leopards, their landscapes and all the unique wildlife those landscapes support," said Juan Li, a postdoctoral fellow in the lab of Steven Beissinger, a professor of conservation biology at UC Berkeley.
The research was published in a recent edition of the journal Biological Conservation. This work was supported by Panthera, the Snow Leopard Trust, the Shanshui Conservation Center and a postdoctoral fellowship from Peking-Tsinghua Center for Life Sciences.