An unprecedented 40-year experiment in a 40,000-acre valley of Yosemite National Park strongly supports the idea that managing fire, rather than suppressing it, makes wilderness areas more resilient to fire, with the added benefit of increased water availability and resistance to drought.
After a three-year, on-the-ground assessment of the park's Illilouette Creek basin, UC Berkeley researchers concluded that a strategy dating to 1973 of managing wildfires with minimal suppression and almost no preemptive, so-called prescribed burns has created a landscape more resistant to catastrophic fire, with more diverse vegetation and forest structure and increased water storage, mostly in the form of meadows in areas cleared by fires.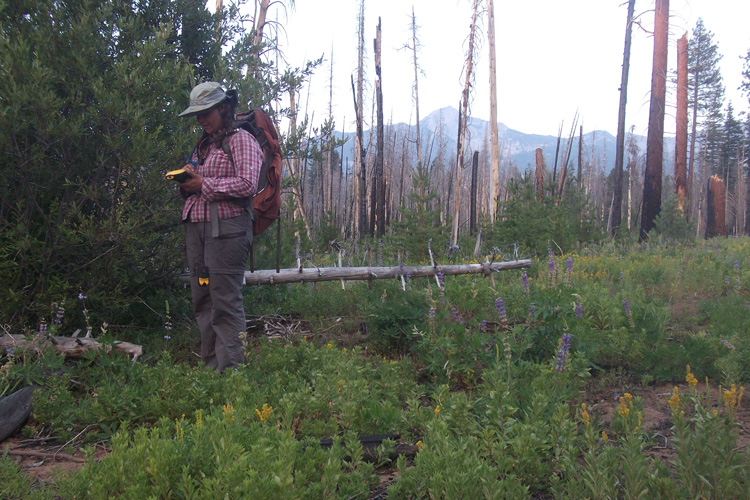 Graduate student Kate Wilkin gathering data in the field in the Illilouette Creek Basin, which bears the scars of many natural fires. Photo by Gabrielle Boisramé.
"When fire is not suppressed, you get all these benefits: increased stream flow, increased downstream water availability, increased soil moisture, which improves habitat for the plants within the watershed. And it increases the drought resistance of the remaining trees and also increases the fire resilience because you have created these natural firebreaks," said Gabrielle Boisramé, a graduate student in UC Berkeley's Department of Civil and Environmental Engineering and first author of the study.
Boisramé and co-author Sally Thompson, a UC Berkeley ecohydrologist and assistant professor of civil and environmental engineering, found that even in the drought years covered by the study, the basin retained more water than similar areas outside the park. That translated into more runoff into the Upper Merced River, which flows through Yosemite Valley, at a time when other rivers in the surrounding areas without a restored fire regime showed the same or decreased flow.
"We know that forests are deep-rooted and that they have a large leaf area, which means they are both thirsty and able to get to water resources," Thompson said. "So if fire removes 20 percent of that demand from the landscape, that frees up some of the water to do different things, from recharging groundwater resources to supporting different kinds of vegetation, and it could start to move into the surface water supplies as stream flow."
The study is published in the current issue of the journal Ecosystems.
If the results are confirmed from other studies, including the UC Berkeley team's new project analyzing the Sugarloaf Creek Basin in Sequoia and Kings Canyon national parks, they could alter the way the federal government as well as water districts deal with fire, benefiting not only the forest environment but potentially also agriculture and cities because of more runoff into streams and reservoirs.
"I think it has the potential to change the conversation about wildfire management," said co-author Scott Stephens, a fire expert and UC Berkeley professor of environmental science, policy and management who has studied the Illilouette basin since 2002.