Anastasios Melis can remember the exact moment he discovered his calling. As an undergraduate at Athens University, he sat in a lecture for a general botany class, enthralled as the professor described a photochemical process in photosynthesis. "I was so fascinated with the idea that a biological system can trap, contain, and then utilize sunlight" he reminisces.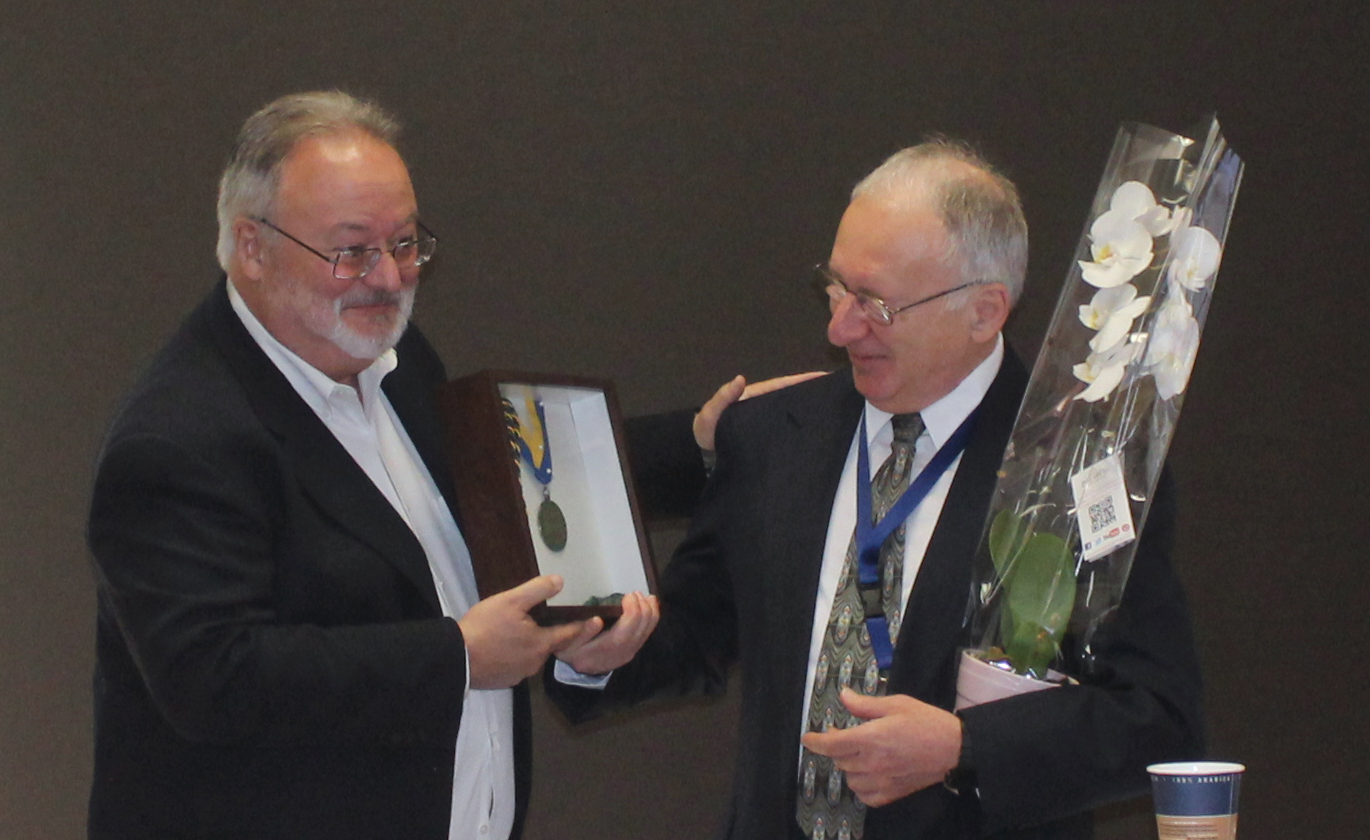 At the spring 2017 Honors Research Symposium, Dean Keith Gilless thanked Professor Anastasios Melis for over twenty years of service to the CNR Honors Research Program.
Melis approached the professor after class asking how to learn more, and was welcomed into the professor's lab with a work assignment on an independent research project. His task was to replicate a recent study published in Nature by Robin Hill, the famous British plant biochemist who first proved that isolated membranes of photosynthesis can, upon illumination, evolve oxygen while transferring electrons to artificial "electron acceptor" compounds. This became known as the "Hill reaction."   
"There was hardly any documentation of the process in the paper, so I tried a lot of things. Along the way, I made every mistake in the book," Melis says of his semester spent on the project. In the end, "it all fell together," and he successfully replicated the experiment, wrote up the process in a detailed report, and presented his findings to the professor and the entire lab. He was rewarded with a handshake from the professor and the satisfaction of tackling the task and learning a lot along the way.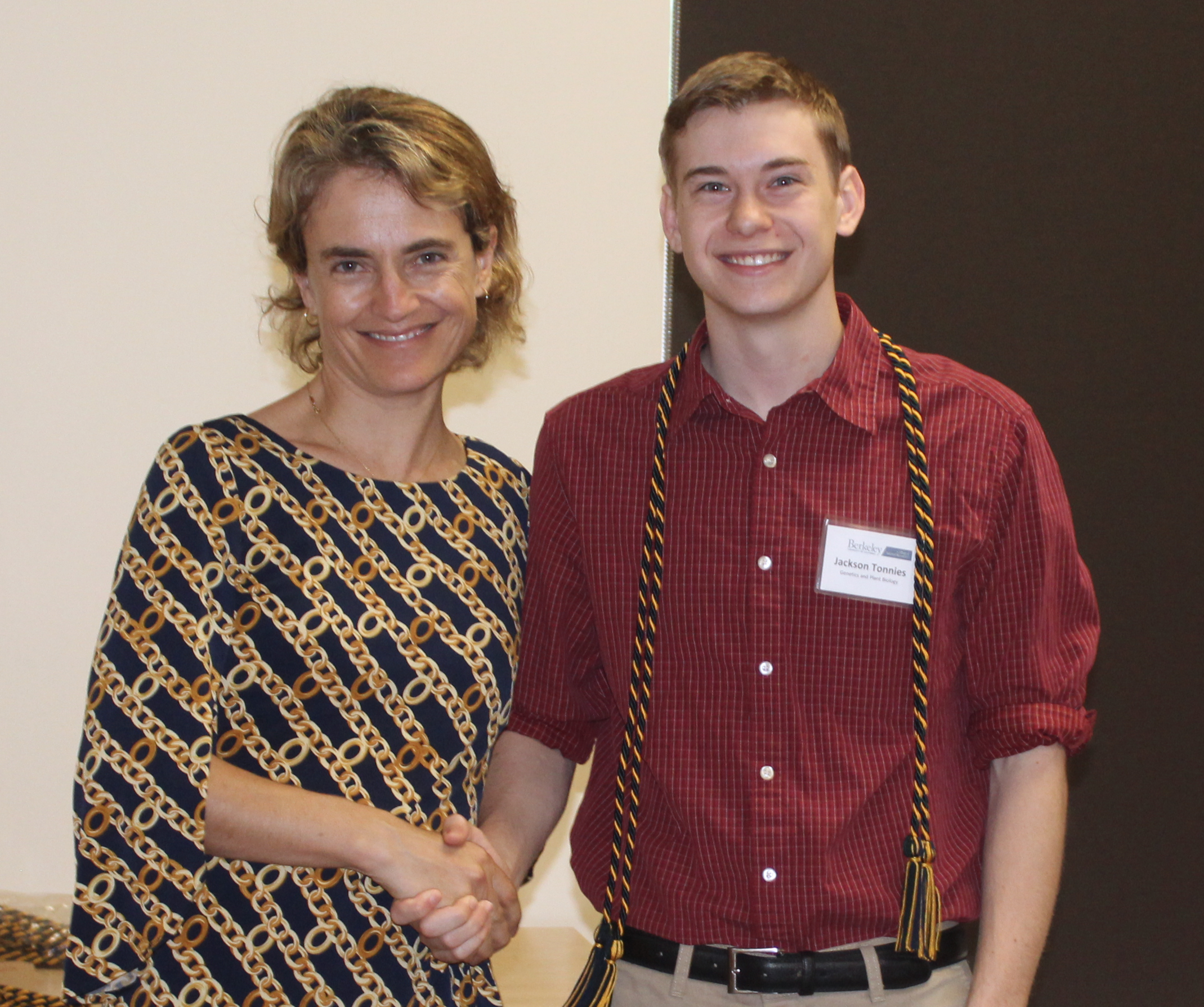 Professor Sofia Villas-Boas congratulates genetics & plant biology major Jackson Tonnies during the spring 2017 Honors Research Symposium. Photo by Sofia Villas-Boas.
Fast forward through his doctoral study at Florida State University and postdoctoral training in the Netherlands and at Stanford all the way to 1994, when, as a professor in the Department of Plant & Microbial Biology at UC Berkeley, Melis recalled his seminal undergraduate experience. He wondered if CNR students who pursue similar undergraduate research opportunities could be formally recognized for their efforts. Melis proposed the idea of honors research and recognition to the CNR faculty committee on courses and curricula, and during the 1995-96 academic year the CNR Honors Research Program officially enrolled its first student.
To participate, undergraduates with a UC GPA of 3.6 or higher complete 8 units of a departmental honors research course, conduct a year-long independent research project overseen by a CNR faculty mentor, and write an honors thesis on their research. Finally, students formally present their work and answer audience questions during a 2-day Honors Research Symposium held at the end of each term.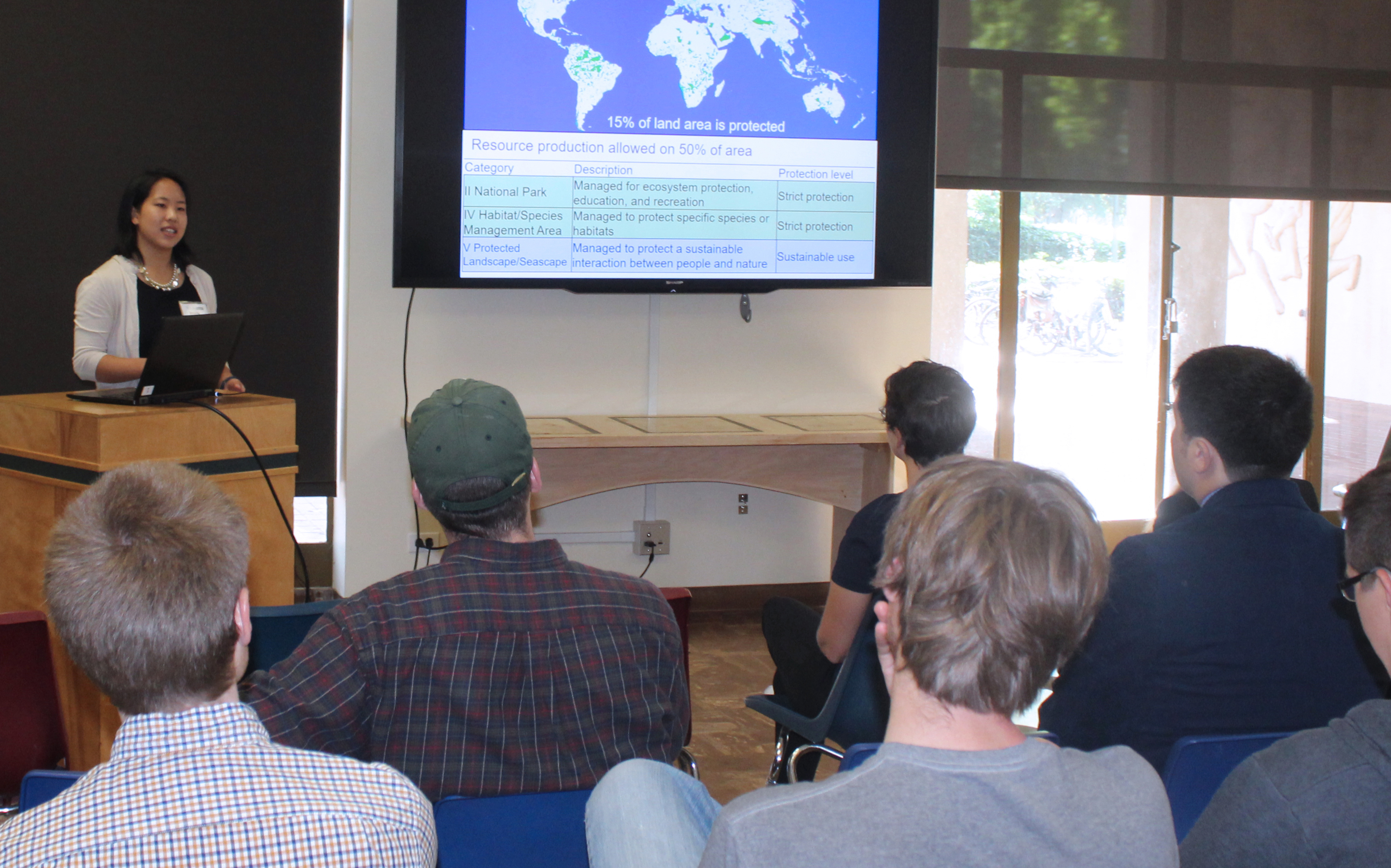 Student Alison Ke was one of 42 CNR students who presented their research at the spring 2017 Honors Research Symposium. Photo by Sofia Villas-Boas.
Professor Melis has served as chair of the symposium and coordinator of the program since its inception, and to date, over 640 CNR students have successfully completed the program requirements. In his name, CNR awards the Melis Medal to the best student presentation delivered during each day of the culminating event.
Beyond the certificate they receive and the honors status awarded them upon graduation, Melis comments, the program enhances the undergraduate experience for students, who receive their degree better-prepared for careers in both academic and industrial research settings. He also stresses the importance of learning to present to a broadly-based audience and to be able to answer unanticipated questions on one's own research. "This is something all of us have to do in our research careers, but it is not innate; it needs to be learned" he says. "We are proud to be able to give to our students the opportunity to learn and practice this at the start of their scientific career."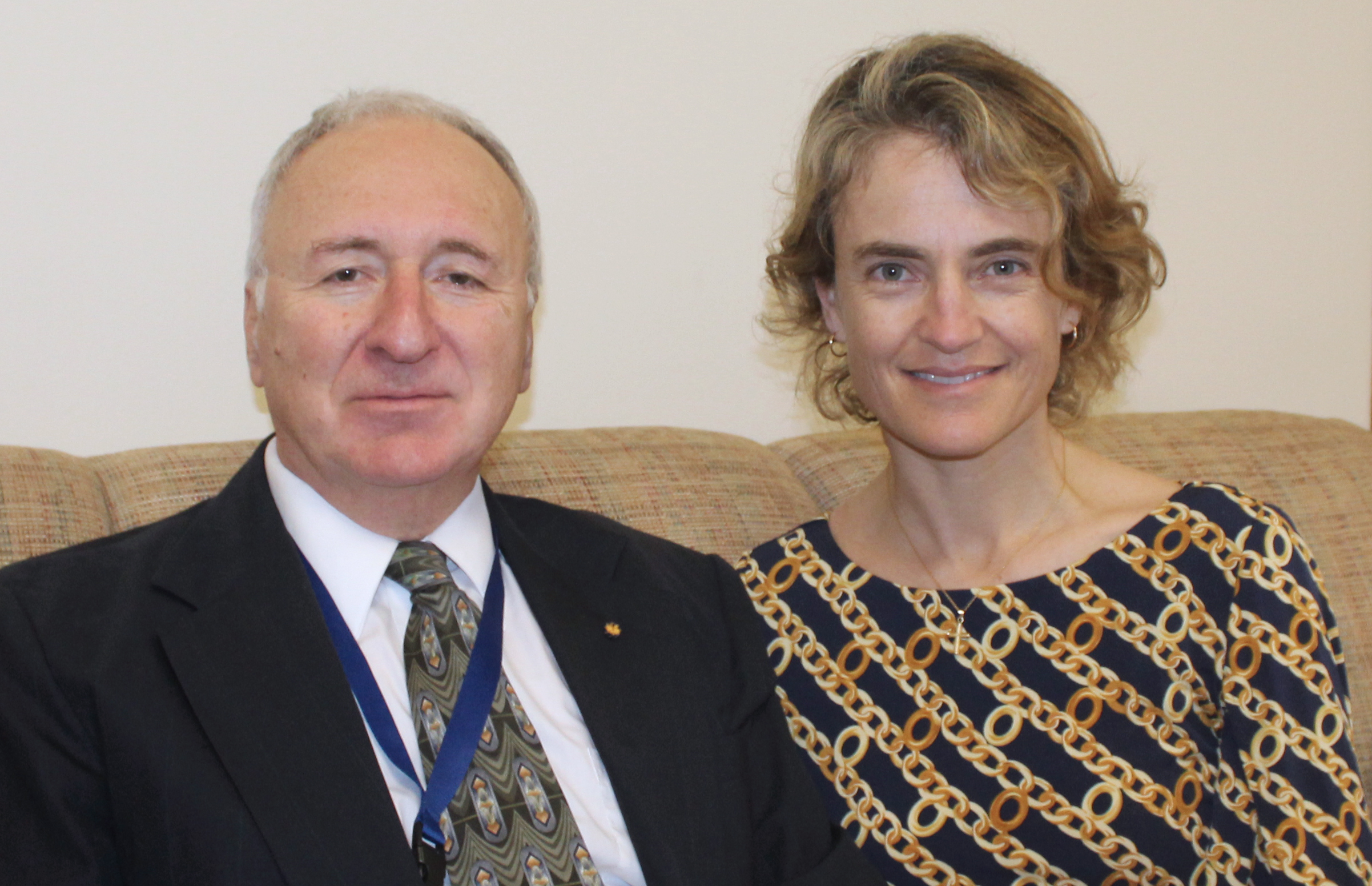 Starting in fall 2017, professor Sofia Villas-Boas will take over as faculty coordinator of the CNR Honors Research Program.
The spring 2017 symposium held this month—during which 42 students presented their work—saw a "changing of the guard" as Melis passed the position of faculty coordinator and symposium chair to Sofia Villas-Boas, a professor in the Department of Agriculture and Resource Economics. Villas-Boas is especially well suited as his successor, Melis says, because she too has a track record of supporting undergraduate research through the honors program and other initiatives like CNR's Sponsored Projects for Undergraduate Research program and the campus-wide Undergraduate Research Apprenticeship program.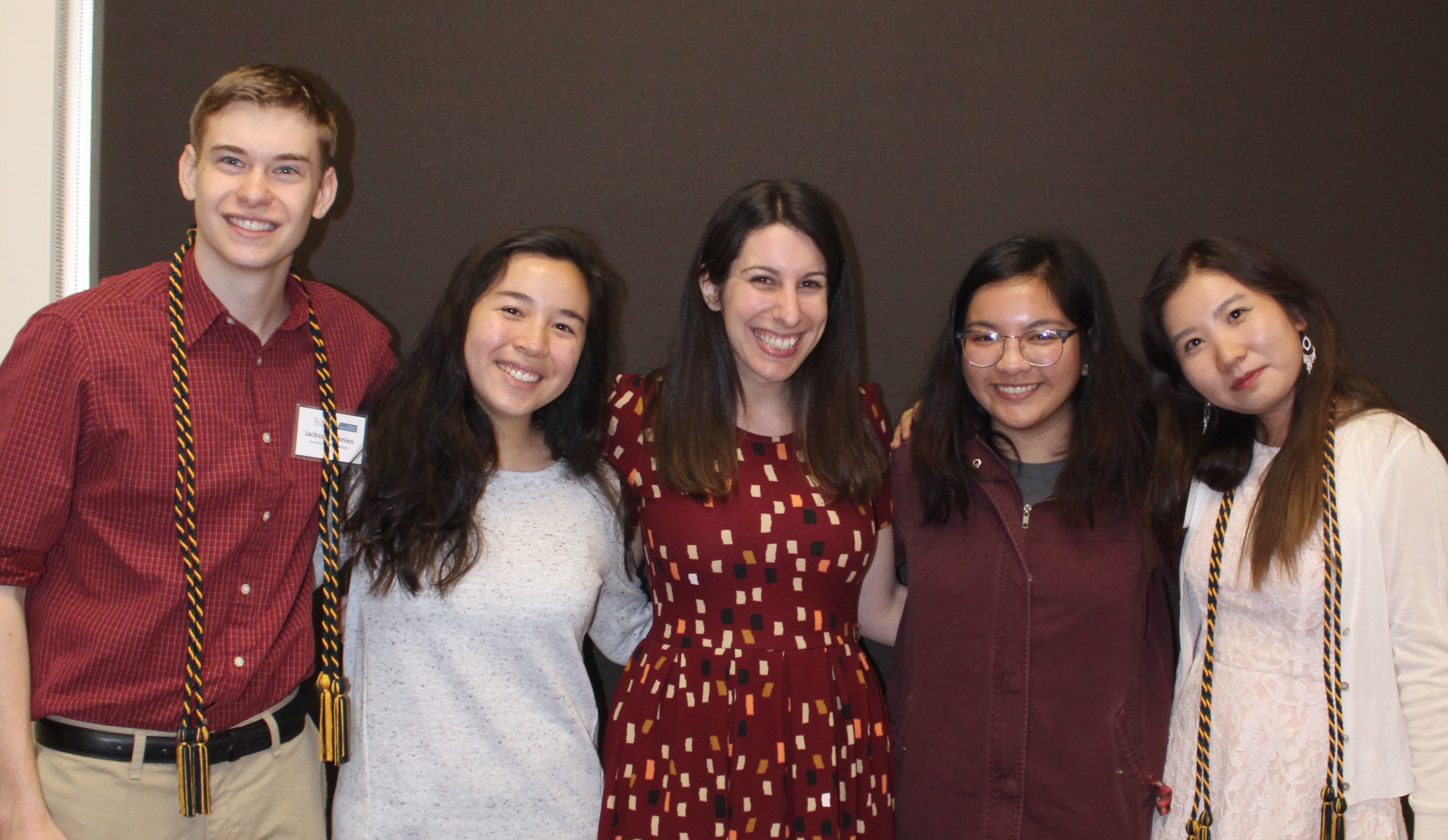 Graduates of the CNR Honors Research Program pose with student advisor and honors program coordinator Elizabeth Storer at the spring 2017 symposium. Photo by Sophia Villas-Boas.
"Professor Melis proposed a program that has become a key component of the academic enrichment activities available to CNR students," commented CNR Dean Keith Gilless. "We are thankful for his remarkable dedication and service to the Honors Research Program over the past 22 years."
Recalling all the students he got to know through the program, Melis says the best moment was always placing the Honors Research Cord around the neck of each graduate after the symposium presentations. "Their beaming faces and the pride in their eyes, it is absolutely incredible. That alone—how happy and excited they are to accomplish this—that alone is reward enough for me."