Senior Blair Conklin tells of some incredible moments he's had at Cal, his professional skimboarding career, and his plans for the future.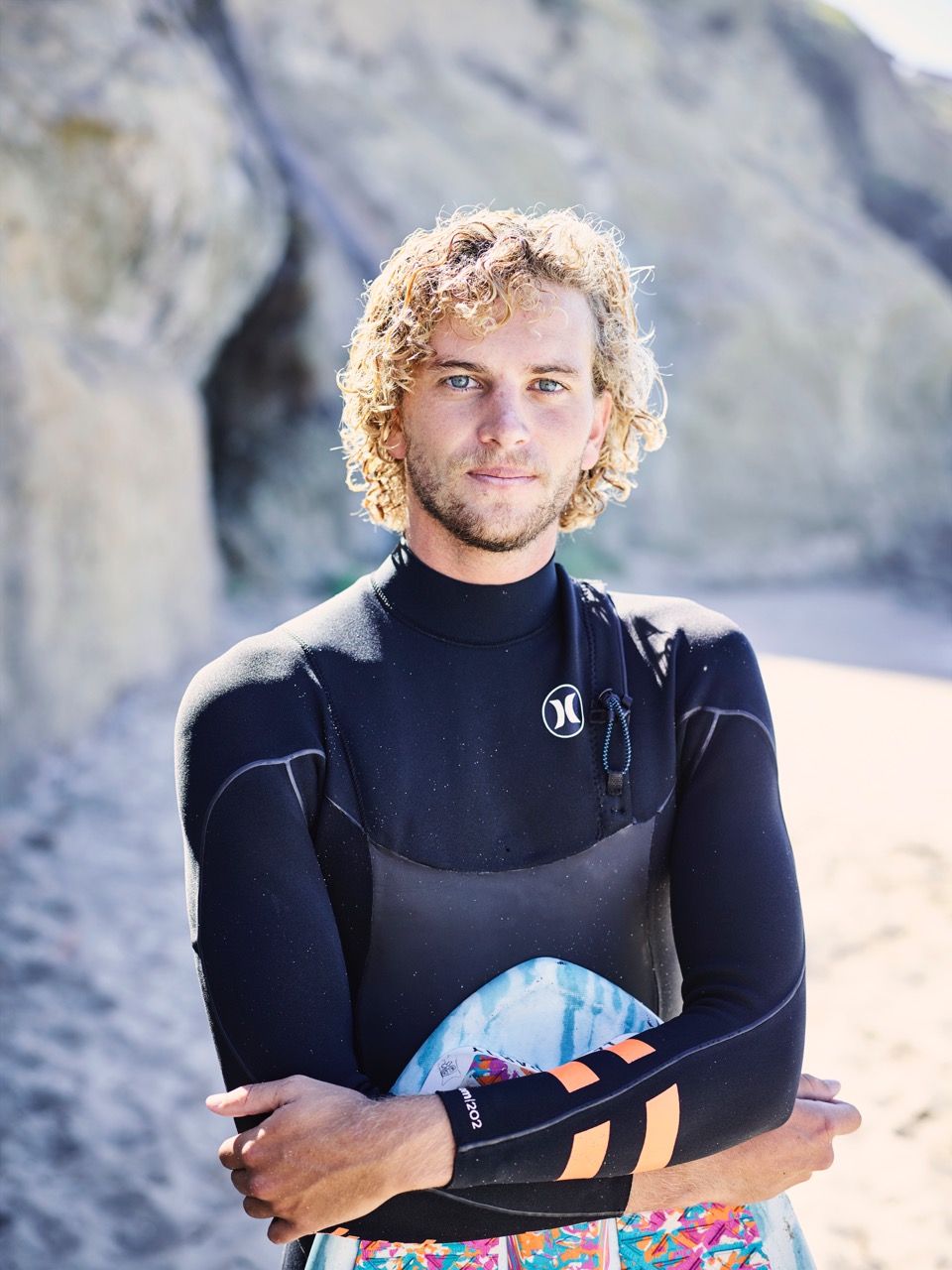 Photo courtesy of Blair Conklin.
Blair Conklin
4th Year, Environmental Science
Best study spot on campus?
My favorite study spot is the patio of the Free Speech Movement Café on a calm sunny day.  Be wary of the hungry squirrels.  
Best Cal memory?
One of my favorite Cal memories was generated from a Tropical Island Biology and Geomorphology class (ESPMC107) I took in the fall of my junior year at Berkeley's Gump Station in Moorea. On a day with exceptionally calm seas and not a single cloud in the sky, our class took out two aluminum boats on the hunt for humpback whales outside the barrier reefs of Moorea. After seeing spouts from a group of humpbacks in the distance, our captain moved us closer. A whale surfaced for air about 20 feet off the bow of our boat. After we were told it was safe to enter the water, our entire class of 20 dove right in. With 100 feet of visibility, watching these graceful giants beneath the ocean's surface will be a scene engrained in my memory for life.
What is your favorite CNR class or professor and why?
A course on communicating ocean sciences to informal audiences (IB C100) was one of my favorite classes while at Cal. I found this class was invaluable in helping me to understand the processes by which we learn. This class and its three fantastic professors were very effective at reinforcing my understanding of the scientific process and teaching me the skills to effectively communicate and teach others about science.  Teaching students at the Lawrence Hall of Science provided me with the hands-on experience to become a better communicator and sparked my interest in the field of science education.
What advice do you have for an incoming CNR student?
My advice to an incoming CNR student would be to get involved in groups or activities on campus that align with your interests and passions. It is a great way to meet people and make friends that may open many different doors for you while at Cal.
Image courtesy of Blair Conklin.
What have been the most meaningful activities you've been involved with while at Berkeley?
Senior Thesis project:  For my thesis I studied intertidal boulder fields in the Point Reyes National Sea Shore.  I was interested in looking at the seasonal cycles of sedimentation that occurred in this area; the boulder fields would be buried by sand in the summer and exposed for intertidal organisms to inhabit during the winter. I was also curious about how the increase in basin wide wave energy that occurred in the winter of the 2015-2016 El Niño events would impact these intertidal boulder fields and the amount of sediments within them.
Cal Surf Team: This past year I joined Berkeley's first-ever surf team, which began competing on the college NSSA—the National Surfing Scholastic Association. Before this group was organized, I never would have thought that there were so many good surfers who go to Berkeley. I have always appreciated the strong friendships that arise from meeting people who enjoy ocean sports as much as I do. If a group of surfers can organize meetings and get together at Berkeley, I am confident that anyone can come to Cal and find their niche community or interest group.    
Tell us a little more about your skimboarding career.
For those who have never heard of skimboarding, it is a small but growing sport that is similar to surfing. Unlike surfing, you start from the beach where you run, drop your board, and slide on the sand and surface of the water to catch waves that are breaking close to shore.  
I started skimboarding at the age of 4 in Laguna Beach and began competing at 7 years old. I have skimboarding to thank for taking me to some amazing places around the world. I have travelled to countries such as Angola, Brazil, Costa Rica, France, Portugal, Indonesia, Japan, and Taiwan.  A major milestone for me took place during the fall semester of my senior year when I walked away with the United Skim Tour World Championship title. 
What is your plan for after graduation?
After graduation, I will travel and compete on the world tour for skimboarding during the summer months.  I plan on applying for a position as an environmental science educator for weeklong science camps, which take place in the Channel Islands and Santa Monica Mountains. In the more distant future, I will prepare for grad school and would like do research in a location that takes me a little closer to the ocean or back to the warm waters and coral reefs of Moorea.  
Do you know of a student or group in Rausser College involved in noteworthy research, community outreach, or extracurricular activities? Let us know by submitting a suggestion with this nomination form.