This story originally appeared in the UC Division of Agriculture and Natural Resources Green Blog.
On the second Saturday of every month, Tuesday Simmons heads to the downtown Berkeley farmers market. Among the produce stalls and coffee stands, she sits behind a table with a sign that reads "Talk to a scientist!" She and other students spend the day fielding questions from strangers about topics that range from genetically modified foods to climate change and more. "We never know who we'll talk to at our public events, or what kinds of questions we'll be asked," said Simmons, a graduate student in the UC Berkeley Department of Plant and Microbial Biology (PMB). "This makes the farmers markets fun."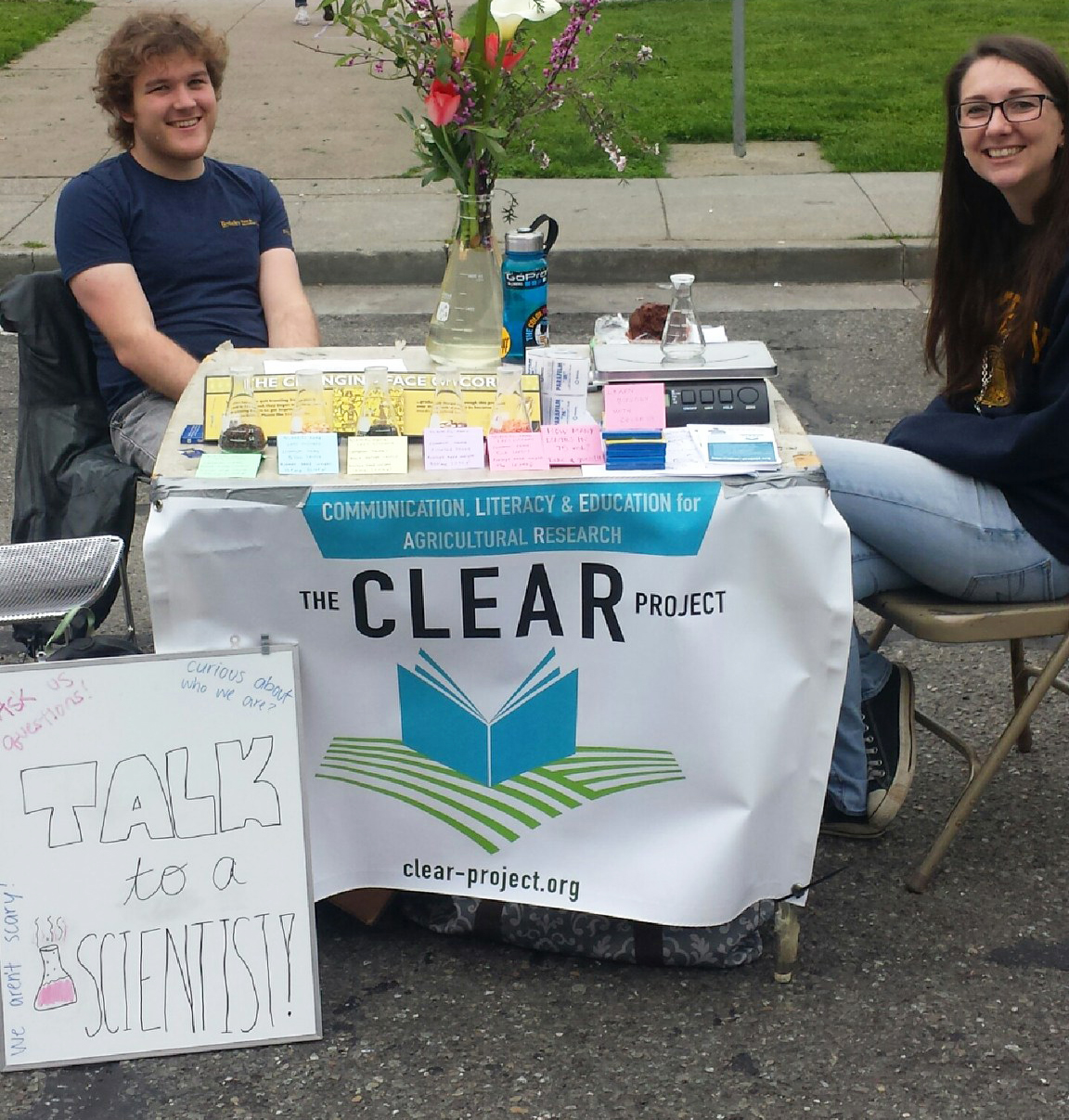 Tim Jeffers and Tuesday Simmons are ready to answer the public's science questions at the downtown Berkeley farmers market.
Simmons' monthly visits to the farmers market are organized by the student group CLEAR (Communication, Literacy, and Education for Agricultural Research). The group aims to mentor the next generation of science communicators by engaging in open, transparent, and active conversations with the public about science and research. Funded through the University of California Global Food Initiative, CLEAR offers a series of scientific outreach events including activities at the farmers market, student-led lectures at libraries, and discussions with the public at local pubs.
The events are aimed at making science accessible. "For members of the public who think scientists are a group of scary, isolated individuals funded by companies with special interests, these brief exchanges can be enough to make them question that assumption," said Simmons, who also noted that translating her microbiology research for the public has helped improve her communication skills.
Learning to create compelling and impactful science communications is also a draw for Daniel Westcott. As a PMB graduate student who studies a specialized field—photosynthetic energy conversion in algae and plants—Westcott noted that discussing his research with non-scientists felt like a challenging hurdle to overcome.
Students like Westcott practice their communications skills through writing for the CLEAR blog. In their monthly blog posts, group members have tackled the economics of the meat industry, and the science behind the Impossible Burger, and the difficulty in labeling foods as "natural," as well as highlighting CLEAR's ongoing outreach efforts.
Westcott understands that sharing his research with the public through the blog and other CLEAR activities is essential. "Nearly two million scientific articles are published each year," Westcott said. "Today's successful scientists must be media savvy in order to rise above the noise."
Launched in 2015, CLEAR began as a project across three UC campuses—Berkeley, Davis, and San Diego. At Berkeley, co-founders Peggy Lemaux and Dawn Chiniquy, a PMB postdoctoral fellow, saw the funding as an opportunity to focus on outreach activities and mentorship opportunities, such as helping graduate students write for and talk to non-scientific audiences.
Lemaux, a PMB faculty member and ANR cooperative extension specialist who studies food crop performance and quality, emphasizes that CLEAR is a student-driven organization. All members of CLEAR are volunteers, and a mix of undergraduates, graduate students and postdoctoral researchers participate in the group's activities. Many of members are PMB students, but students from other scientific fields also participate in CLEAR's events and monthly meetings. Student scientists from across campus are welcome.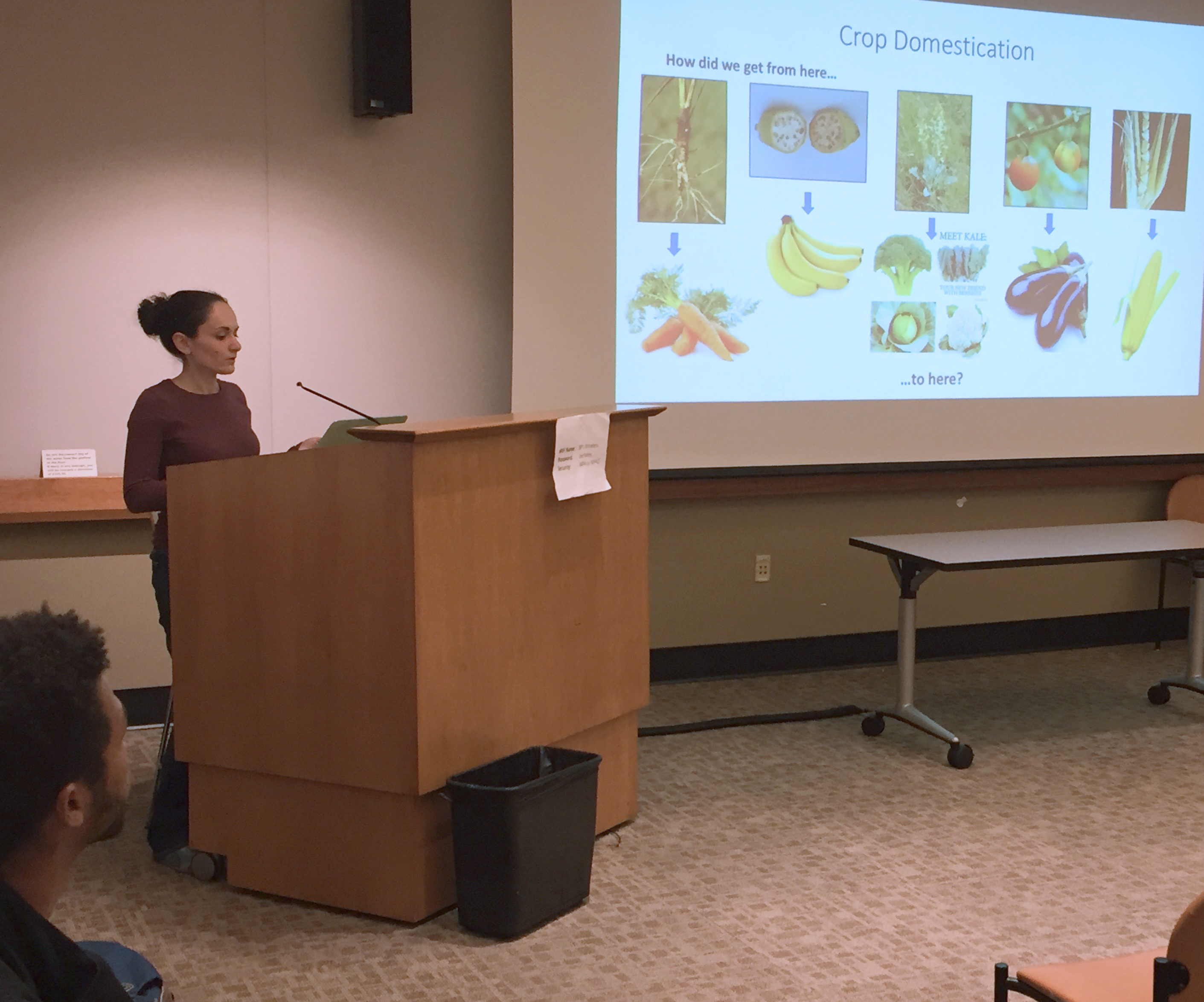 Student Sonia Chapiro speaks about GMOs as part of the "Popping the Science Bubble" scientific seminar series at the Berkeley Public Library on June 19, 2017.
As the faculty organizer of CLEAR, Lemaux mentors students by providing feedback and guidance on their public presentations and blog posts. Recent student-led lecture topics include pesticide use and genetically modified foods, and as new members join the group, they'll continue to add new presentations to their calendar of events.
CLEAR also hosts workshops and trainings to foster students' science communication and writing skills. Last spring, the group invited NPR science writer Joe Palca to present a talk, "Real News or Fake Science." More recently Brian Dunning of Skeptoid gave a presentation titled "Science Communication in a Minefield of Fiction." This fall, Sara ElShafie, a graduate student in the Department of Integrative Biology and founder of Science Through Story, will give a science communication workshop for CLEAR students.
In recent years, Lemaux has seen a shift in students' interest in outreach and science communication. "Today's generation of scientists understand that they must be scientists in the lab and translate the message of their research—and research in general—for the public," she said.
Some CLEAR students have pursued careers in public communication after leaving Berkeley. Mikel Shybut, PhD '15 Plant Biology, is now a fellow at the California Council on Science and Technology where he provides scientific analyses to state legislators. After arranging a day of informational meetings in Sacramento for a group of CLEAR students, Shybut commented, "It's heartening to see what CLEAR has accomplished in the last two years. The group's outreach efforts demonstrate that scientists can be effective messengers."
Visit CLEAR's calendar to learn more about upcoming events. In September join CLEAR at the following events:
Downtown Berkeley Farmers Market: Come chat with CLEAR members and check out their science demos at the farmers market. They feature a different science theme each month and are always looking forward to listening to community members'  science questions and concerns.
Science Cafe with PMB professor John Taylor: Join CLEAR members for a beer, fun fungus exhibits, and Dr. John Taylor's tentatively titled, Felons, Fungi and Rats: California's Valley Fever Epidemic."