Four faculty from the College of Natural Resources have been named 2017 Hellman Fellows. The Hellman Fellows Program supports junior faculty research on the ten campuses of the UC system and at four private institutions.  
Established by Warren & Chris Hellman and their children in 1994, the purpose of the Hellman Fellows Program is to support the research of promising assistant professors who show capacity for great distinction in their chosen fields of endeavor. The Hellman Fellows Program has made over 850 awards during the life of the program.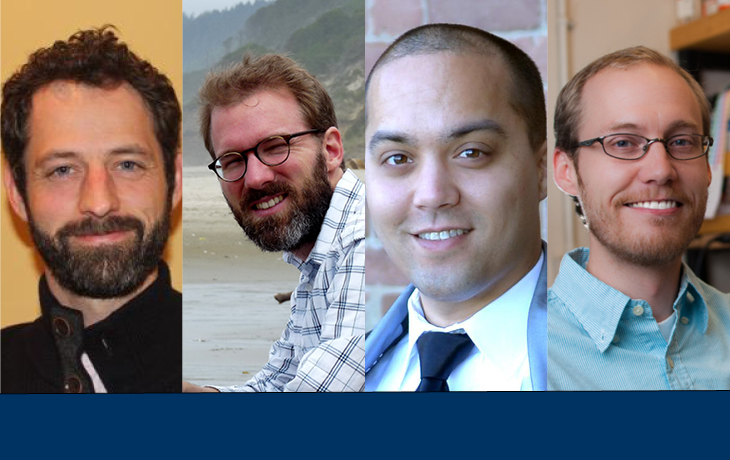 CNR's 2017 Hellman Fellows from left to right: James Sallee, David Anthoff, James Olzmann, and Matthew Traxler.
James Sallee
Assistant Professor, Agricultural and Resource Economics
Project Title: Heterogeneity, Equity, and Energy Policy
David Anthoff
Assistant Professor, Energy Resources Group
Project Title: Social Cost of Carbon Estimation for Climate Policy
James Olzmann
Assistant Professor, Nutritional Science & Toxicology
Project title: Global identification of endogenous ERAD substrates
Matthew Traxler
Assistant Professor, Plant and Microbial Biology
Project Title: Mining Unexplored Microbiomes for Antibiotics Discovery Using Mass Spectral Imaging
For fellowship information and a complete list of awardees, visit the Hellman Fellows Fund website.