Sophie Babka
4th year, Environmental Science Major and Public Policy Minor
In this month's Student Spotlight, senior Sophie Babka shares her experiences getting involved in environmental policy and action, from an internship with the California Environmental Protection Agency to attending the recent Global Climate Action Summit.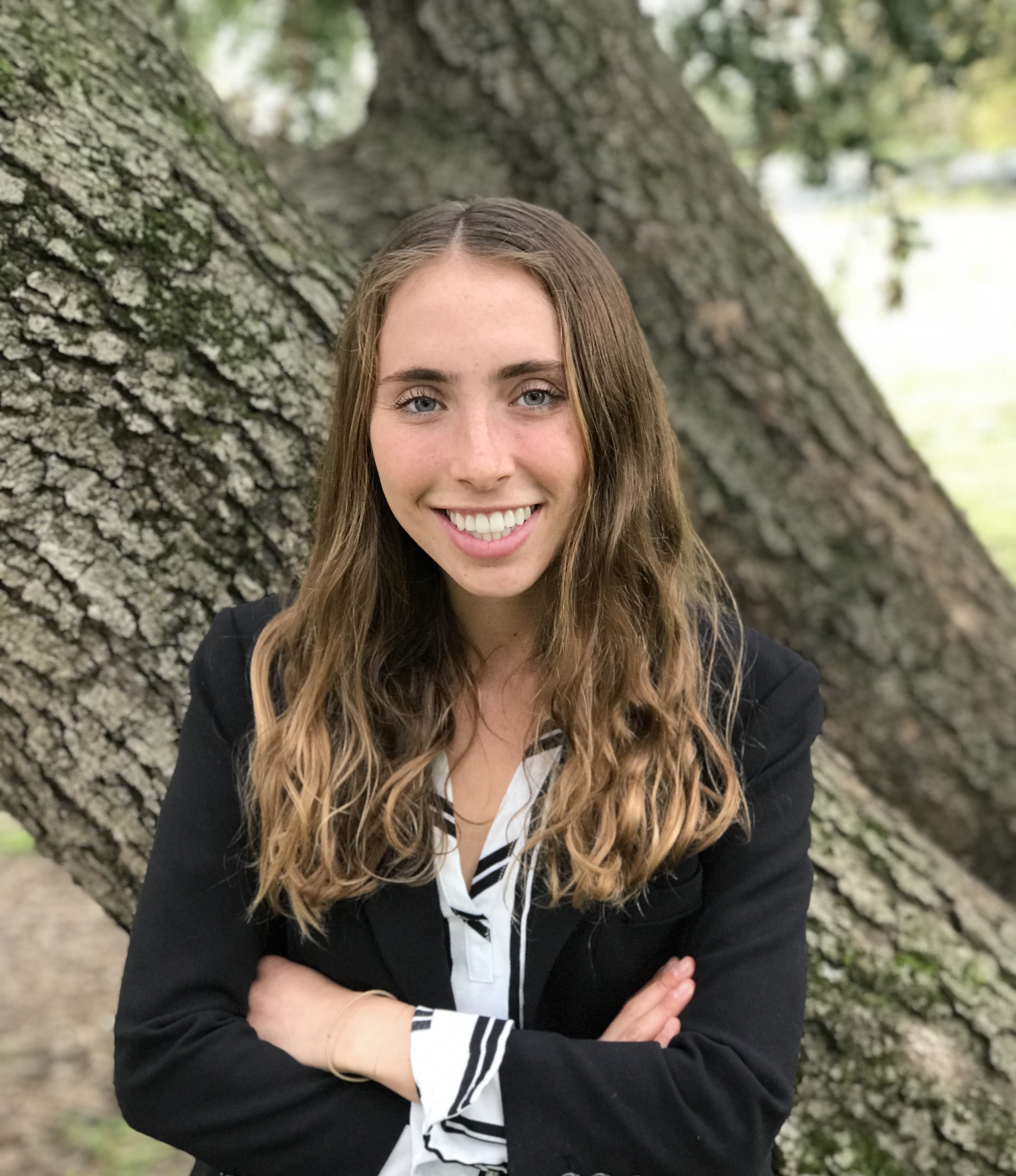 Why did you choose to study environmental science?
I want a career that focuses on solutions to environmental degradation and climate change mitigation. To prepare myself for this role, I took a multidisciplinary approach to learning more about and solving these problems by studying environmental sciences and public policy. Within this major and minor, I've had the opportunity to take courses emphasizing the science and engineering behind climate change while further gaining an understanding about how to create effective policies. By combining these two fields I hope to be prepared to work towards creating more science-based policies for tackling anthropogenic climate change.
I'm currently working on my senior thesis, which is assessing compostable plastics and trying to understand how many of these products are actually composted in the real world. This has been a really interesting process and has allowed me to learn about California's waste management strategies and the implications compostable plastics have on compost facilities.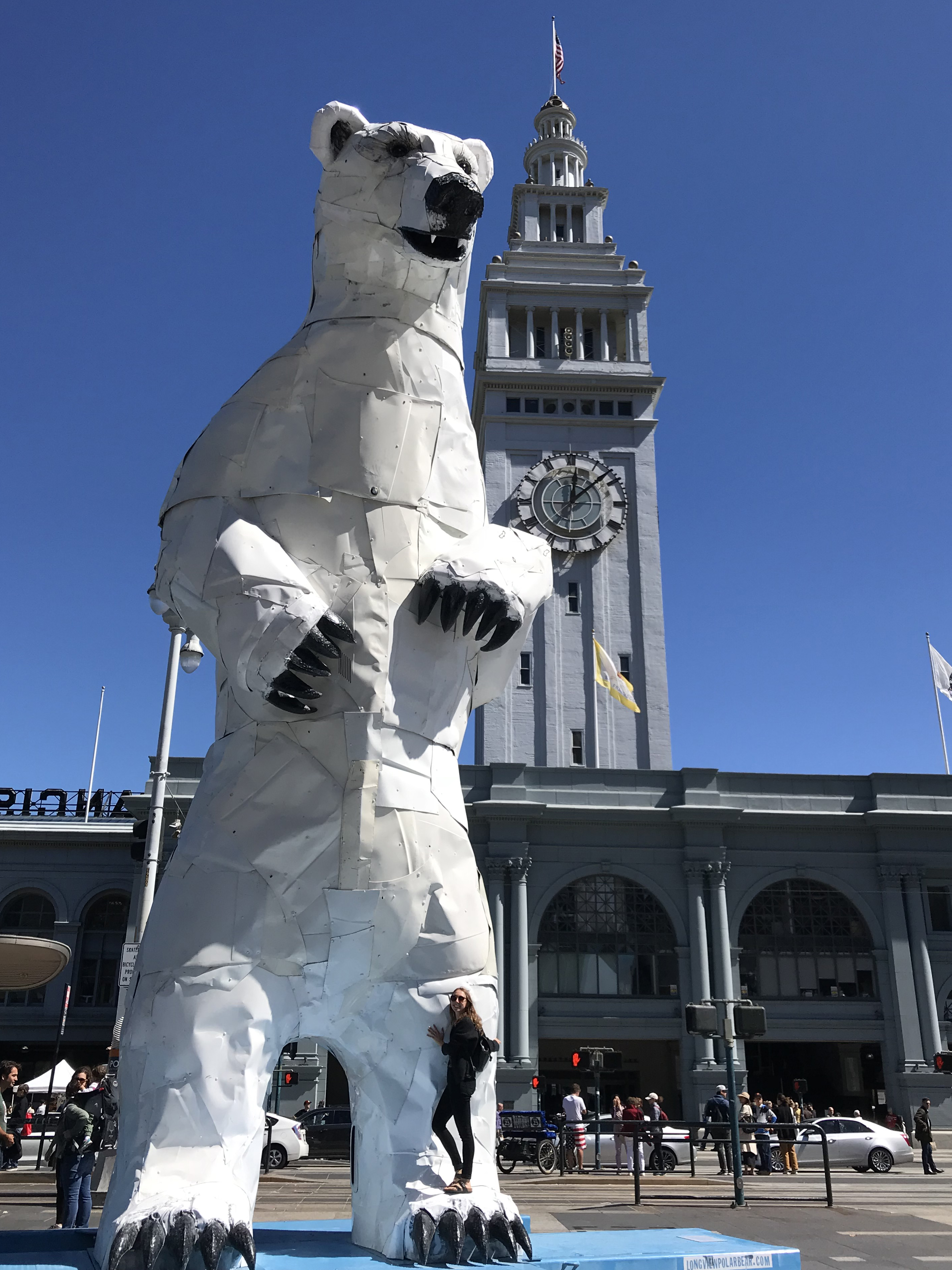 Sophie posing with a giant polar bear brought in for the Global Climate Action Summit.
You attended the Global Climate Action Summit last month—what were some key takeaways from that experience?
Participating in the Summit was an incredible opportunity to witness powerful advocates coming together to increase momentum to fight the severe global consequences of climate change. Over 3,000 delegates attended the Summit, including some of the most notable UC Berkeley faculty members, including David Ackerly, Daniel Kammen, and Whendee Silver. While the summit was occuring, Hurricane Florence and other major weather incidents devastated countries around the world, showing how necessary climate action is to prevent increased extreme weather events such as these.
At the start of the week, California Governor Jerry Brown signed SB100, a bill that commits California to 100% carbon-free electricity by 2045. SB100 is a large step, showing the world that California—the fifth largest economy in the world—is committed to both economic growth and emissions reduction.
The summit focused on five challenge areas, Healthy Energy Systems, Inclusive Economic Growth, Sustainable Communities, Land and Ocean Stewardship, and Transformative Climate Investments. Climate advocates who have dedicated their lives to this field, such as Jane Goodall, Michael Bloomberg, and Al Gore spoke on all these topics, leading to the creation of over 500 climate action commitments during the week long summit. These commitments were made by cities, companies, investors, civil society organizations, and regions globally.
The Summit was a call to action to all leaders across the world, from those who are working tirelessly to mitigate the climate change effects, to those who have yet to make a change. This summit proved that climate actions will continue to occur locally, and worldwide, no matter who is in leadership.
Can you tell us more about your internship at the California Environmental Protection Agency?
I spent the summer interning at the executive branch of the California Environmental Protection agency working with the climate program. I was able to experience the process behind how California implements its environmental policies. It was amazing being surrounded by like minded individuals who had the same drive and ambition towards environmental action. I participated in meetings with executive members of the California Air resource board, CalRecycle and other agencies and learned how they are tackling issues around topics such as biomass burning, waste sites at risk of sea level rise, dairy digesters, and the efforts each agency is doing to reduce their greenhouse gas emissions in compliance with state emission reduction goals. I had an amazing time at the Cal EPA and really enjoyed my time being a part of the team that makes California so successful in our efforts.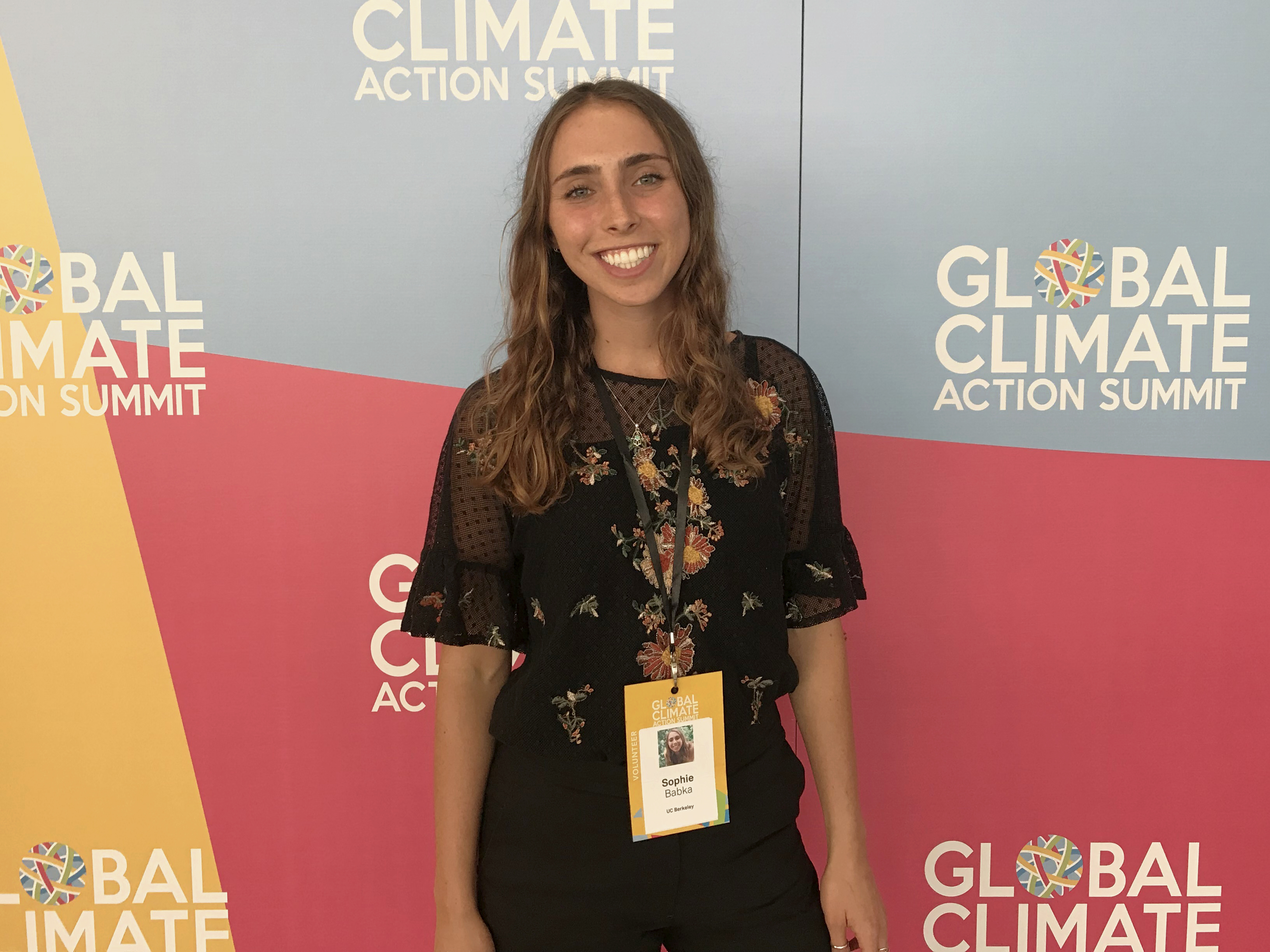 Sophie at the Global Climate Action Summit in San Francisco.
In addition to your studies, you work for ReGrained. Can you tell us more about the company and your role there?
Regrained is a remarkable company that works with local craft breweries to upcycle the grains leftover from the brewing process into granola bars. By repurposing this grain we're giving it a second life and preventing food waste. Also we use completely compostable packaging, so we're reducing food waste, without creating more waste in the process.
In my role as a brand associate with the company, I help support community engagement events and give product demonstrations, which lets me educate consumers about the impact of their choices and how we can all try to live a more conscientious lifestyle. It's empowering to live a lifestyle reflective of your values and I love that I am able to share my values with people through this position at ReGrained.
Do you know of a student or group in Rausser College involved in noteworthy research, community outreach, or extracurricular activities? Let us know by submitting a suggestion with this nomination form.