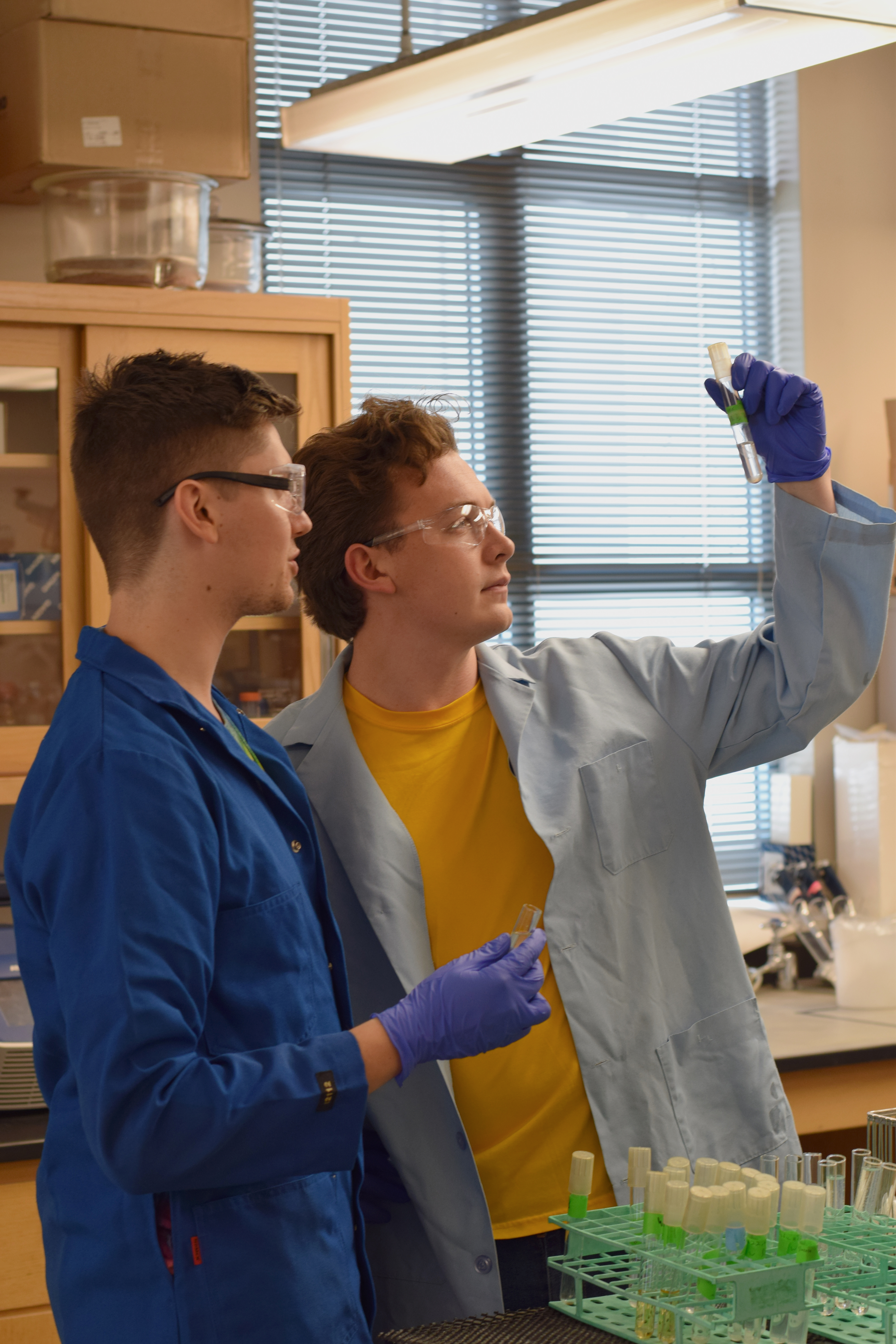 Ryan and William in the lab. Photo by Lindsey Pfeiffer.
Ryan Kenneally
4th year, Microbial Biology and Genetics and Plant Biology
William Sharpless
3rd year, Microbial Biology and Applied Math
This month's Student Spotlight features Ryan Kenneally and William Sharpless, two CNR undergraduates who turned their passion for reducing plastic waste into winning third place in this year's Big Ideas Contest. The two also share their experiences participating in the College's undergraduate research program and their post-graduation plans.
What made you want to study ways to reduce plastic waste?
Ryan: Our planet is so unique and awe-inspiring and I've always been interested in conservation. Studying biology at Cal has made me appreciate just how complex and valuable life on this planet really is. With this in mind, I began learning about the role of microbes in remediating oil spills and breaking down complex and recalcitrant molecules, and I wondered if microbes could help address the issue of our planet's plastic waste problem.
William: I've always loved nature. I grew up with several acres of woods behind my house in North Carolina and spent much of my youth exploring the vast and undisturbed forests. I am dispirited by the crippled state of our planet and fear the possibility that my own children will not be able to witness the beauty that exists in the natural world. These sentiments are why I wanted to come to the College of Natural Resources, and why I strive for a career in building technologies that preserve and reestablish the natural world, alongside technologies that better human health.
Once you began to formulate a research project idea, how did the Sponsored Projects for Undergraduate Research (SPUR) program help support your study?
Ryan: We could not have pursued this project with the funding, lab space, and mentorship from SPUR and our faculty advisor, professor Steven Lindow. Dr. Lindow welcomed us into his lab and gave us ample guidance that helped make this project possible. An immense thank you to CNR for making this project possible!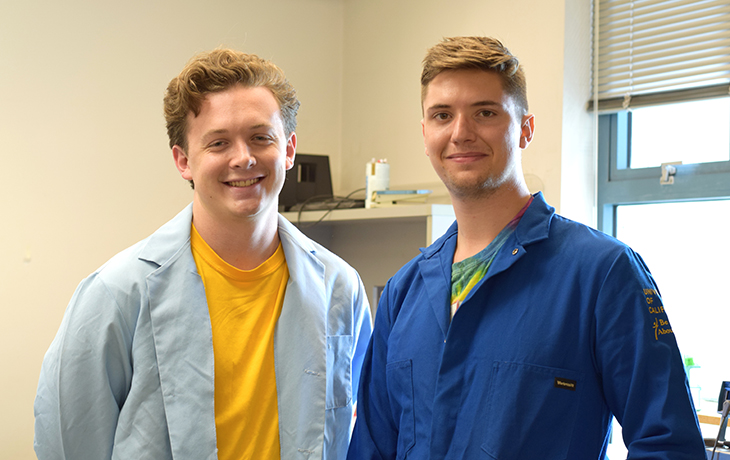 William Sharpless and Ryan Kenneally. Photo by Lindsey Pfeiffer.
Can you tell us more about your Big Ideas project?
Ryan: In studying the issue of plastic waste, I learned that plastics are a relatively new material on the timescale of evolution. In doing some research on how microbes can breakdown complex and recalcitrant molecules, I started to see that microbial plastic breakdown may be completely feasible, but has yet to emerge due to a lack of time for the appropriate metabolic pathways to develop.
At the same time, I learned about a technique called directed evolution that allows researchers to take protein evolution into the laboratory and speed it up to thousands of times its natural rate. I realized that if these two ideas could be merged, we may be able to make progress toward developing microbes capable of degrading plastic waste at an industrial scale and protect our planet from the dangers of plastic pollution. Very little previous research had been done in this area, as plastic-degrading microbes are extremely rare and drastically understudied. I became very passionate about this project, as I had never designed my own research project before and was excited to work on a project with important real world impact.
What are you doing post-graduation?
William: I have another year at CNR, and then I may work in biotech post-graduation, but I am set on applying for bioengineering graduate programs within a year or two out of CNR.
Ryan: After graduation, I will be serving with the United States Peace Corps in Panama. I'll be working as an agricultural extension volunteer for 27 months in a rural area of the country, and I'm am incredibly excited to begin. After the conclusion of my service, I plan to attend graduate school and hope to pursue a career in biological research and education.
Do you know of a student or group in Rausser College involved in noteworthy research, community outreach, or extracurricular activities? Let us know by submitting a suggestion with this nomination form.