Congratulations to the College of Natural Resources students who won this year's Rudd Family Foundation's Big Ideas Contest! This contest highlights and awards innovative, high-impact student-led projects focused on solving current problems and aims to help students spark social change. From over initial 300 project proposals across 12 campuses,  34 projects received awards. Here are the winning CNR projects:
Common Objects, Uncommon Purpose: Fighting Unconscious Bias with Art
Art & Social Change Honorable Mention
Team Lead: Emily Kearney, Environmental Science, Policy, and Management (ESPM) graduate student
Catherine Adams, Plant & Microbial Biology (PMB) graduate student
Despite our best intentions, everyday discrimination bubbles up from unconscious biases we don't realize we have. "Common Objects, Uncommon Purpose" will address this by raising awareness, concern, and knowledge of unconscious bias. In particular, it will target skeptics who may not think bias is a problem. The campaign will use a mixed-media approach that employs humor, cartoons, interactive art installations, and artfully designed practical objects. This project will use public spaces, social media, and our daily lives to start an open dialogue about unconscious bias and its effects. It will empower community members to propel the campaign forward with art, fact, & tact.
DissolvBio
Energy & Resource Alternatives 3rd Place
Team lead: Ryan Kenneally '19 microbial biology and genetics and plant biology major
William Sharpless, 3rd year microbial biology major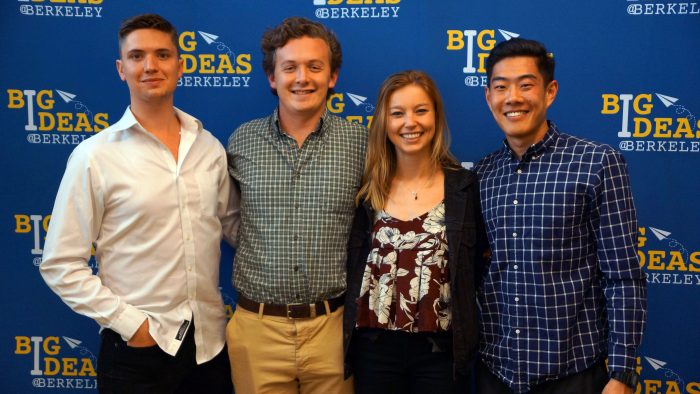 Team members from left to right, Ryan Kenneally, William Sharpless, Hannah Grossman, Jason Hou
Billions of pounds of polyethylene are produced each year, and unfortunately this compound can take thousands of years to break down. Polyethylene has also been linked to human cancers, groundwater toxification, and environmental damage. A reliable means of breaking down polyethylene is necessary and would have a huge impact. Unfortunately, microbial degradation of polyethylene is not common in nature. Polyethylene has been around for less than 100 years and enzyme evolution takes millennia, so microbes have not had enough time to develop this ability. However, recent techniques in Directed Evolution allow researchers to take evolution into the lab and speed it up to thousands of times its natural rate. This project proposes to apply Directed Evolution techniques to a specific enzyme tied to polyethylene degradation in order to create a novel enzyme capable of degrading polyethylene efficiently and reducing global plastic waste.
CoopNet
Connected Communities 2nd Place
Team Lead: Aaron Scherf, Master of Development Practice (MDP) graduate student
Boly Ramsay, MDP graduate student
CoopNet's vision is to create a digital financing model for shared housing, leveraging the community activation of crowdfunding to bring together residents and investors who believe in the virtues of cooperative living. Not only would such an online platform provide a legal, regulated, and contractually sound method for cooperatives to access financing, it offers the flexibility needed to scale across different property types and urban markets. Every cooperative housing venture financed via CoopNet would create immediate and lasting benefits for local communities: reducing overall housing costs, offering an alternative and communal style of living, and creating opportunities for residents to shape their communities rather than depending on governments, banks, or real estate developers. By June 2020, CoopNet plans to facilitate the formation of approximately 14 cooperative housing units, connecting over 70 local residents, and saving residents an estimated $320,000 in cumulative housing costs, with greater savings expected as the co-ops continue and CoopNet expands.
My Earth
Workforce Education and Development, 2nd Place
Team Lead: Cara Nolan, MDP graduate student
Jennifer Liu, MDP graduate student
Tamar Saunders, MDP graduate student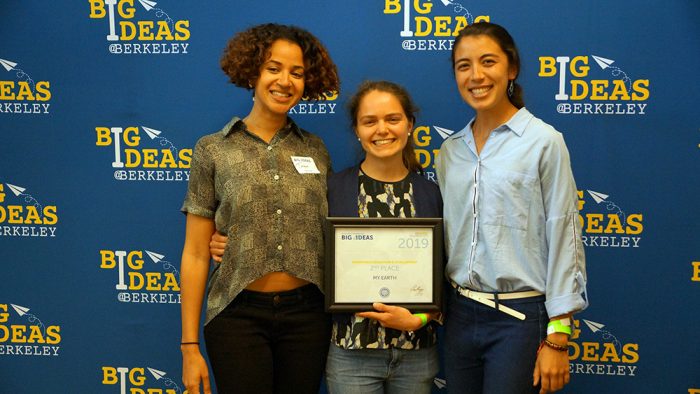 From left to right, Tamar Saunders, Cara Nolan, and Jennifer Liu
My Earth is a social enterprise that provides training and employment for Australia's remote Indigenous communities in the construction industry. My Earth engages local people to construct low-cost but high-quality, environmentally-sustainable housing. It uses locally-sourced soil as the primary building material, in a technique called Compressed Earth Block (CEB) technology. This construction technique has been demonstrated in East Africa, but not widely adopted in Australia. CEB is a low-skill construction technique, which enables My Earth to engage people who may have missed out on a good education. The program uses a flexible, tiered training and employment model to lower the barriers to entry into the labor market. It starts with brick pressing and a builder-trainer program, and ultimately ongoing employment in local construction and maintenance. Its flexibility, direct linkage to a job pipeline, and commitment to community involvement, sets it apart from traditional remote workforce development projects.
Solving the Arsenic Problem in Rural California
Global Health, 3rd Place
Lucas Duffy, MDP graduate student
JP Daniel, MDP graduate student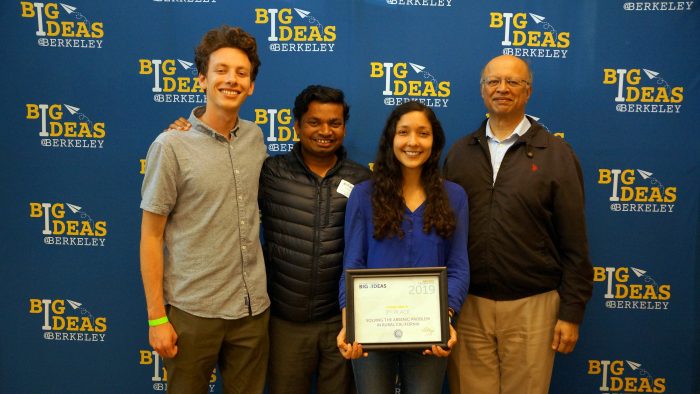 About 55,000 people in California rely on arsenic-contaminated groundwater as their primary source of drinking water. The small water systems serving these disadvantaged communities lack the technical, managerial, and financial capacity to implement a sustainable solution that would provide arsenic-safe drinking water. Thus, there is a need for an affordable, compact, and continuous-flow technology for these communities exposed to arsenic, a potent carcinogen. Air Cathode Assisted Iron Electrocoagulation (ACAIE) effectively removes high arsenic concentrations from synthetic groundwater to levels below EPA's Maximum Contaminant Level of 10 parts per billion. Conducting a pilot study at a school site will demonstrate the technical efficacy and robustness of ACAIE. In addition, an educational campaign will increase public awareness and knowledge on the arsenic problem in rural California, empowering rural communities that currently lack their human right to safe drinking water.
The Berkeley-India Stove Project
Energy and Resource Alternatives, 3rd Place
Matthew Mayes, MDP graduate student
The ultimate goal of the Berkeley India Stove (BIS) Project is to deliver the BIS into the hands of the poorest 830 million people in India suffering from exposure to indoor air pollution due to their daily use of inefficient biomass cookstoves. An essential component of the project is to ensure the sustained adoption and long-term usage of the BIS, which reduces smoke emissions and fuelwood consumption by as much as 50% compared to traditional Indian stoves. The BIS is one of the best available cookstoves in the Indian market considering a performance to price ratio. Bolstered by strong partnerships on the ground and a comprehensive business plan, including innovative strategies for dissemination and monitoring, the BIS has the potential to dramatically curtail the harmful impacts of this critical environmental, health, and socioeconomic issue caused by inefficient stoves.