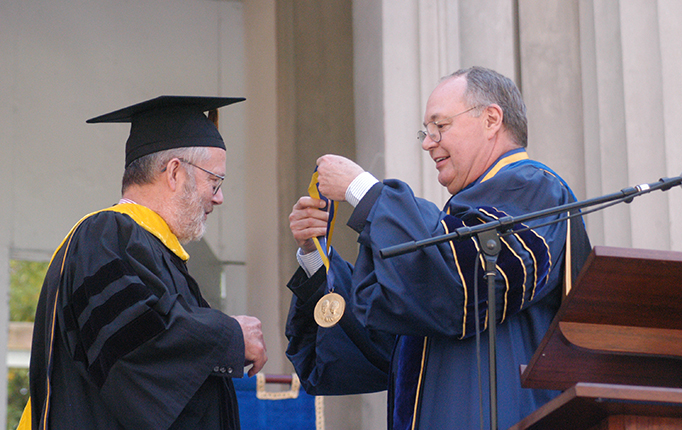 Chancellor Berdahl presents the Haas International Award to Norman Myers at Commencement 2004. Photo by Peg Skorpinski.
Norman Myers, PhD '73, the luminary environmental researcher who alerted the world to alarmingly high deforestation and extinction rates, passed away October 20th at age 85. A renowned expert in biodiversity and systems ecology, Myers came up with the "biodiversity hotspots" strategy for conservation. Early on, he predicted a surge in refugees as a result of climate crises and environmental degradation. In addition to having published more than 250 journal papers, 18 books, and 300 articles, Myers held professorial appointments at many universities including Oxford, Harvard, Yale, Cornell, Stanford, Cape Town, Tokyo, and Michigan.
As a grad student in the College of Natural Resources, Myers studied under Professor Arnold Schultz. Schultz helped create the conservation and resource studies major in 1970, and he taught Myers to think at a systems level. "I came here to study wildlife management, and that was okay, but I very soon found out that wildlife needs to be managed because it is threatened, and then the question is what is threatening it?" said Myers in a 1998 Conversations with History interview from the Institute for International Studies. "Fortunately at that time Berkeley, alone among American universities, allowed people to do an interdisciplinary doctorate. And I took that up, and it was great, marvelous." Myers returned to Berkeley as the Charles M. and Martha Hitchcock Professor in 1998, and in 2003, he received the Elise and Walter A. Haas International Award. 
Myers also served as a scientific and policy advisor for political leaders, as well as at international organizations, including the US Department of State, US Department of Defense, the World Bank, the Organization for Economic Cooperation and Development (OECD), the European Commission, and seven United Nations agencies. Myers was named Time magazine's "Hero of the Environment" in 2007, and he was listed in the United Nations Environment Programme Global 500 Roll of Honour. 
READ MORE: