A Dogon woman in Mali waters her onion garden, which was planted using stone bunds to reduce soil erosion. This traditional technique helps to increase crop yield. Photo by Judy Saye Kopanic.
In Africa's Western Sahel, an arid region on the southern border of the Sahara Desert, the population is expected to double to 450 million by 2050. Meanwhile, temperatures are projected to climb three degrees Celsius above 1950 levels, as climate change brings on more unpredictable and extreme weather.
In a new commentary published in Nature, three UC Berkeley researchers and their coauthors argue that without considerable government investment in four areas—family planning, girls' education, agriculture, and security—Western Sahel countries' political and economic systems could collapse. In a region with widespread hunger and malnutrition, rising food and economic insecurity could pave the way for famines, mass migration, and violent conflict. Only by investing heavily in forward-looking programs, the researchers argue, can governments avert serious disruptions down the line.
Over eight years, the group tracked trends in population and food security for seven predominantly Muslim regions: Chad, Mauritania, Mali, Burkina Faso, Niger, Senegal, and northern Nigeria, collectively referred to in the commentary as the Sahel study region (SSR).
"World leaders have a disappointing record when it comes to crises that take decades to unfold," write the authors. For example, the paper points out how greater and earlier investment in HIV/AIDS prevention in the 1980s could have staved off millions of deaths—and saved billions of dollars—over the subsequent 20 years.
They found that investments in agriculture could help mitigate future impacts of climate change in the SSR. Soil degradation, erosion, and erratic rainfall—already familiar problems in Western Sahel—are expected to worsen with a warming climate. But by implementing optimal farming methods—such as building irrigation infrastructure, using appropriate seeds, and adopting agroforestry—SSR countries could as much as double food production. Such a significant boost in crops would go a long way for public health. In Niger, for example, stunted growth from malnutrition affects a full 44 percent of children under the age of five.
Today, write the researchers, only 4 percent of SSR cropland has irrigation infrastructure, and SSR farmers use only one-tenth the global average of fertilizer. With present day climate conditions, irrigation improvements alone could feed an additional 140 million people, without depleting groundwater or hurting freshwater ecosystems.
"Problems that are left unattended have a habit of becoming crises," says coauthor Lorenzo Rosa, a PhD candidate in the Department of Environmental Science, Policy, and Management whose research focuses on the interactions between integrated energy, water, and agricultural systems. He says that crop yields could be bolstered by better land management, including retaining more rainwater, collecting runoff, and improving soil infiltration. "For example, Zaï-pits dug in the soil to concentrate water and nutrients allow crops to withstand drought," says Rosa. "It's a traditional farming practice that increased yield up to 500 percent."
Rosa collaborated with coauthors Alisha Graves, academic coordinator and cofounder of the UC Berkeley Organizing to Advance Solutions in the Sahel Initiative (OASIS) and Fadji Maina, a postdoctoral research scientist at the Lawrence Berkeley National Laboratory (Berkeley Lab), along with two researchers in Niger and Burkina Faso. OASIS is a project of the Bixby Center at the School of Public Health and was founded in collaboration with the College of Natural Resources.
In addition to their suggestions on investment into agriculture, the authors call for government investment in social programs; for example, access to family planning and girls' education. Globally, women in the SSR are some of the least empowered, often lacking basic freedoms surrounding health, reproduction, and education. Demographers estimate that, in countries with similar fertility rates to the SSR, population growth could be slowed by 15 to 20 percent where women can delay marriage and childbirth by five years. 
"Most girls and women in Niger have very little control over their lives," says Graves, who is an alumna of the School of Public Health. "Access to basic education and the knowledge and contraceptive methods to shape family size are fundamental to women's empowerment."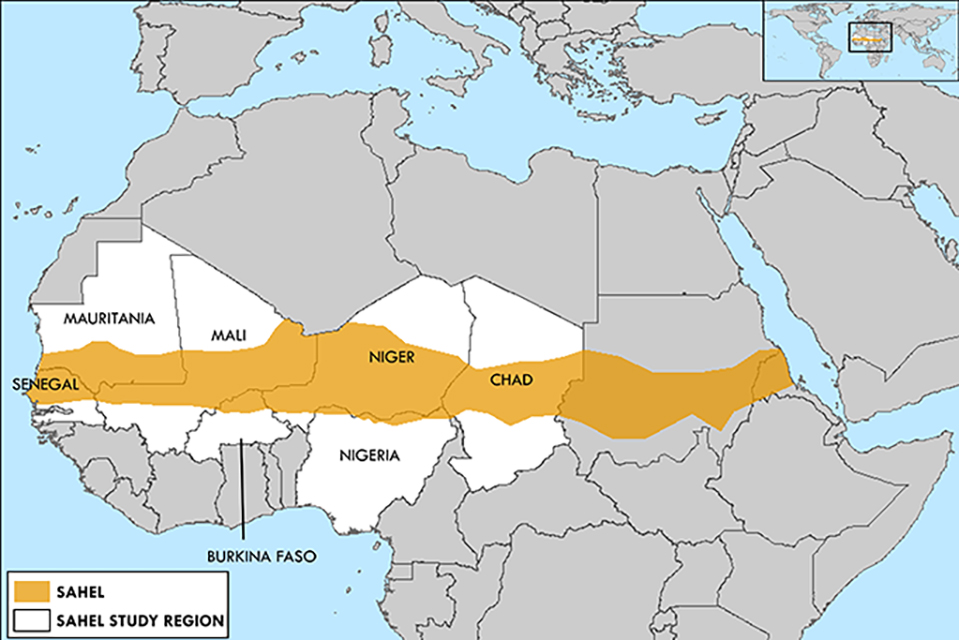 The Sahel study region (SSR) could see a rise in conflict and food insecurity if investment are not made to deal with future climate change and a growing population. Map provided by Alisha Graves, Lorenzo Rosa, and Fadji Maina.
OASIS leverages evidence-based, local leadership to address humanitarian challenges in the region. The initiative has trained more than 140 leaders in advocacy and program design, and since 2016, has offered practical field experience at local, national, and international agencies to over 40 graduate students. 
In northern Nigeria, OASIS partnered with the Centre for Girls Education to raise the average age of marriage by two-and-a-half years for 10,000 girls, while increasing girls' high school graduation rate by a factor of 20. "Numerous studies over at least three decades have shown that investing in a girl's education is a powerful way to bring about all sorts of other improvements," the authors write.
Born and raised in Niger, Maina says that she's seen many girls married early and drop out of school, while many people are threatened by insecurity and insufficient food. "As a scientist, I know that these conditions will become worse in the future as a result of climate change," says Maina. "It is therefore very important to act now to help my community and build a better future world for the Sahel and its people. It's not only about the Sahel but the future of humanity."
Problems have also bubbled up in the form of violence. Disputes over land use between ranchers and farmers occur more frequently, and despite higher military spending, instances of militant Islamist violence have spiked dramatically in the past two years.
The paper calls for greater cooperation between the humanitarian and security communities. "The humanitarian community tends to develop short-term plans and budgets spanning 3-5 years," write the authors. "Often this is because organizations are constrained by limited resources and are struggling to address immediate problems, such as refugees fleeing conflict or ecological disasters. Yet acting to prevent crisis before they become acute is much less costly in the long term."
In coming decades, the global community could likely feel the reverberation of crises in the Western Sahel. Noting Somalia's collapse in the 1990s, the authors write that failed states can have ripple effects throughout the global economy. West Africa already has the highest rate of emigration on the continent, and one 2017 study suggests that millions more could be forced to flee the SSR by 2100.
"As time passes, adapting to the interactions between climate change and population growth will become even harder," the authors write. "Acting now is imperative."
In addition to the five authors, the commentary had five co-signatories: Malcolm Potts, UC Berkeley professor emeritus and OASIS cofounder, Michael Wehner, senior staff scientist at Berkeley Lab, Daniel Pearlman, research medical anthropologist at the Bixby Center, Gabriel Sangli, senior lecturer at the University of Ouagadougou, and Serge Michailof, senior fellow at the Foundation for Studies and Research on International Development in France.
READ MORE: